EE Life
Mon 14th May, 2018
The 2018 Equal Experts annual conference: another memorable night!
At Equal Experts, getting together in one place is not as easy as it sounds. With offices across the world, and with most of our consultants co-located with clients, it means we often rely on Slack to stay in touch and get to know one another.
That's why our annual conference is so important for us – it's a time to bring as many people together as we can to stop, reflect and look forward to the year ahead. Oh, and let our hair down a bit too, obviously.
Looking back, and to the future
This year, around 250 of us – which is about a third of the network – headed to Tobacco Dock in London for this year's conference – our sixth. Could we better last year's? We had a good go!
After recapping what was a great 2017 for Equal Experts, fellow co-founder Ryan Sikorsky and I cast our minds into the future. What's in store for the network? What is our direction of travel? The answer, in short, is that we want Equal Experts to continuously improve so that it becomes a role model – a model organisation – that can inspire the rest of the industry. How so? In the way it treats its employees and associates, in the way it treats its clients, in the quality of its output and its approach to innovation. All this while still growing in a sustainable way, so that we don't lose what makes the network special in the first place.
It's keynote time
We then had a keynote from the excellent Dr. Hannah Fry, Senior Lecturer at the Centre for Advanced Spatial Analysis at UCL. She spoke on the mathematics of 'Being Human'. Taking everyday human behaviours, such as relationships and city living, she looked through the prisms of maths and data to show us a whole new angle on who we are – often with unexpected conclusions.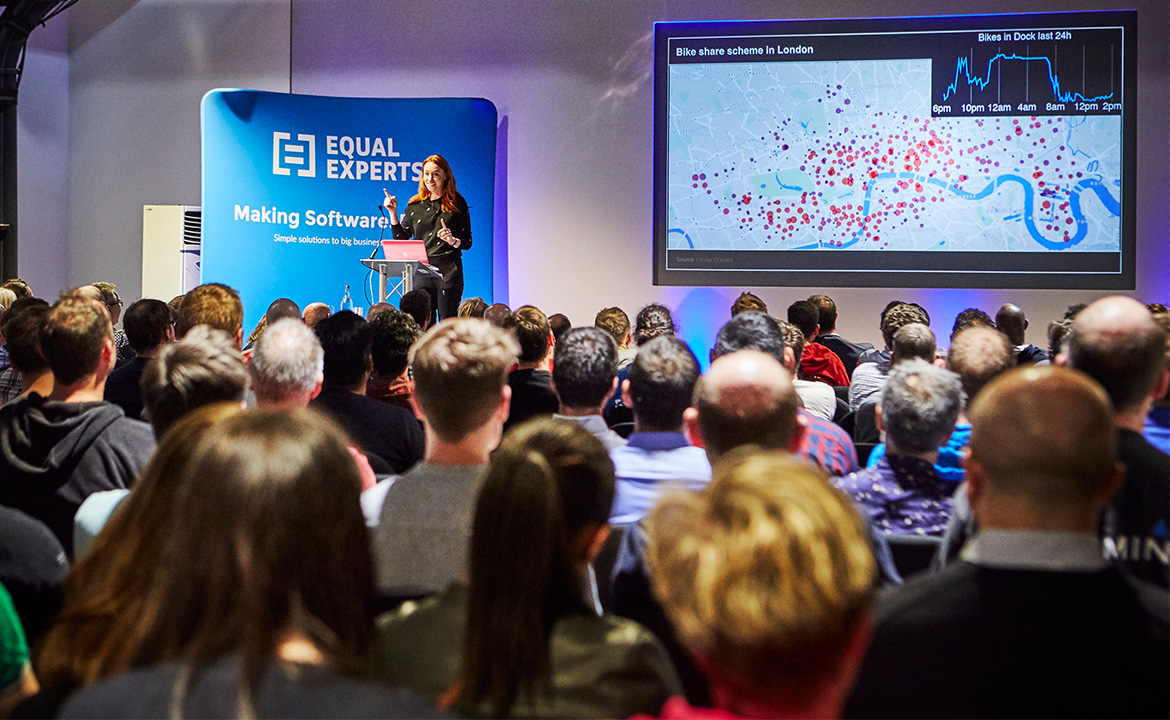 Finally, we had a series of Lightning Talks from people within the network on a diverse range of topics, from Blockchain and Monitoring, to Machine Learning, GDPR and 'Florence Nightingale as an Agile pioneer'.
It was a fantastic, informative evening, and it was so gratifying to see so many people there enjoying themselves and getting to know each other better. Ultimately, that's what it's all about.
Thanks to everyone involved for making it a huge success. Bring on next year's…