Return to office working – why trusting your teams is key
As so many aspects of daily life get back to 'normal' post-pandemic, the big question for businesses is this: What should your return to office plan look like going forward? In fact, after being forced to dramatically change all our working practices just to stay operational, is normal even relevant anymore?
A recent LinkedIn post from Brad Reilly – Executive Creative Director at McCann Worldgroup – characterised precisely the dichotomy of trying to incorporate office working into a now well-rehearsed work from home setup: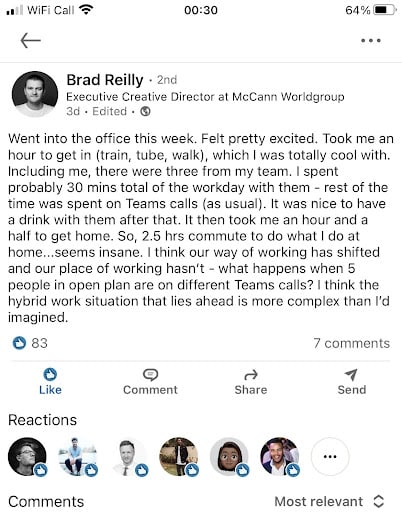 We've previously shared compelling evidence to show why going back to the office isn't going to work. Here we talk about why we think an "As-Needed" policy is the best way to determine when (and if) staff will benefit from being at the office. 
Why coming to the office 'As-Needed' could work best for your teams
The typical policy appears to dictate a target number of days per week to be in the office, based on nothing particularly scientific. Anecdotally the premise seems to be a perceived shortcoming of working remotely – even though huge organisations have thrived during the pandemic by doing exactly that. 
With all of the learned benefits of working from home in mind, organisations should now consider shaping policies that require teams to come in only when it is valuable for them to do so. By establishing an 'as-needed' philosophy, managers don't specify the number of days people should come into the office; rather they trust their staff and their teams to come in when there is a benefit that can't be achieved in the same way remotely.
Whether we like it or not (and if you haven't already guessed, at Equal Experts we like it!) the pandemic has provoked a major overhaul of traditional working practices. It would be illogical to throw away that learning in favour of coming into the office for the sake of it. Think about it – just as software once transitioned from its beginnings as a desktop-first application, to a strategy that puts the mobile experience at the core of the design (mobile-first), so office-based working now needs to undergo a similar transformation.
Here's why you need to trust your teams to determine if they need an in-person meeting:
It's likely to help with staff retention:

people have found new ways of managing their work-life balance since the pandemic hit and most say they prefer the flexibility they now have. A

survey of employees by Cardiff and Southampton universities

found that the majority of those currently working from home would like to continue to do so in some capacity, with 47% preferring to remain out of the office for most of their working hours. These staff are likely to look elsewhere to find job flexibility if organisations rigidly insist on a fixed number of days.

It keeps productivity high:

29% of those surveyed indicated that they were more productive at home, with employees who've been working full-time from home saying their productivity has increased during lockdown. Preventing these people from choosing how they work in the future does not make economic sense.

It helps with capacity planning:

trying to give employees flexibility whilst mandating, for example, three days per week is highly likely to result in over capacity for at least one of those days. At the other end of the flexibility scale, allowing staff to choose one day per week dilutes the probability of teams being in the same place at the same time and reduces the chances of serendipitous meetings – one of the key motivations for getting back to the office in the first place!

It may improve employee wellbeing:

with mental health problems on the rise following the pandemic there are well-documented benefits of working from home that need to be sustained. A new report from

Microsoft Surface

and YouGov, entitled

Work Smarter to live Better

has found that the new way of working has given workers the opportunity to live life in a different way. Fifty-five percent now use their lunch break to focus on their personal life and 56% reported an increase in their levels of happiness working from home.
Instead of prescribing a calendar of days in the office, allowing your teams to plan their own schedules for in-person meetings is much more likely to produce both happy staff and useful outcomes. One of my most enlightened clients has told everyone that their 'return to office' frequency is up to each team to decide. These teams are still geographically close, but they are trending towards meeting in person based around major ceremonies, or simply when they need a mini break and a couple of evening beers.
When it might be valuable to meet up in person (and when you should question yourself)
Different teams will have different reasons for coming into the office. There is no one-size-fits-all; personal and professional circumstances will drive different preferences. That's another reason for trusting your staff to make their own decisions on an ad-hoc basis. Teams need to work together to decide and agree on which activities provide genuine benefits that justify the cost, time and effort of meeting up in person.
 High performing teams are created on the foundation of collaboration and shared context, building high levels of trust as they evolve.  Choosing activities that support improving any of these principles is a good place to start when deciding what the guidelines should be for a day in the office. There are no right or wrong answers, however, here are some reasons that are worth considering:
To foster better relationships with work colleagues: building strong relationships is key to creating strong teams and anecdotally is one of the main reasons people want to return to the office.  In a Leadership IQ survey, researchers found that relationships with work colleagues are far better when working in an office than when working from home, with  54% of respondents finding it either a little better or much better, compared to only 15% who say it is better working from home.  Just coming together to socialise in order to build better relationships sounds like a worthy reason for jumping on that train.
For understanding context when starting a new project: starting a new project frequently involves a new domain, a new team and often a new company. With so much context to assimilate, and relationships to build, bringing people together and away from day-to-day distractions could be the most effective way to accelerate through Tuckman's stages of group development. 
To facilitate better contributions in meetings: it might feel logical that contributions in meetings would be better in person, however in the Leadership IQ survey, 56% say that contributions are "The same in both situations," with an even split who say they are either much, or a little better working from home (23%), compared to 21% who say contributions are better when working in an office. When asked if meetings are more productive working from home or in an office the results were split evenly again, with one third saying better, one third saying 'the same' and one third saying they are worse. So before you rush in for that meeting, consider if it's really the best use of your time.
Onboarding new starters: it's traditional to give new employees an induction before they start work, typically to meet key people and understand systems and practices within your organisation. However, we should remember that lockdown didn't prevent new contracts from starting, so it would be wise to consider what new best practices can be sustained now that we understand how to do it remotely. 
To get creative juices flowing: in the same Leadership IQ study a significant group reported that they have experienced increased creativity when working from home, with 39% saying their creativity is a little or much better when working from home vs only 23% concluding that their creativity is impacted.  Again, something which seems obvious at first glance might not be the case in every circumstance, so think hard about whether being together in the office will improve creative outcomes or not.
To foster team spirit: reports of loneliness and isolation have been well-documented during the various lockdowns, and there could be some value to scheduling in-office meetups to alleviate stress caused by remote working. But before you leap to a solution of regular office meetings it's worth considering other methods of building team spirit remotely, as well as supporting your staff's mental wellness in different ways. Virtual social activities, physical challenges like the EE walkathon, or group sessions for skills improvement can all contribute to feelings of belonging amongst your employees. 
When communication across multiple teams is needed: although purely anecdotal, many of the remote teams I've worked with report less collaboration with teams outside of their immediate circles. With no real purpose for meeting and no – or limited – opportunities for chance encounters, some managers feel that the opportunity is lost to turn serendipitous conversations into meaningful communications.  Identifying opportunities for cross-team encounters such as internal conferences could help teams share context and establish common ground.
How to make sure an as-needed approach to office working will drive results for your business
In essence, where we have policies that are based on office centric designs,  performance will erode. Conversely, organisations that don't cling to office-based practices and instead design policies around human behaviour will produce higher performing teams. 
It would be wise to enter this new arena thoughtfully; there is a lot to learn, and we still need to experiment with return to work policies that focus on desired outcomes rather than historic practices.
The key to all this is going to be trust. If we as leaders provide the right framework, our staff will naturally make wiser decisions around ensuring that time in the office is time well spent.