EE Life
Thu 3rd June, 2021
The Equal Experts Walkathon 2021: We did it!
During May 2021, over 500 people around the world participated in the annual Equal Experts Walkathon – to keep fit, make friends, and help raise money for a charity of their choice.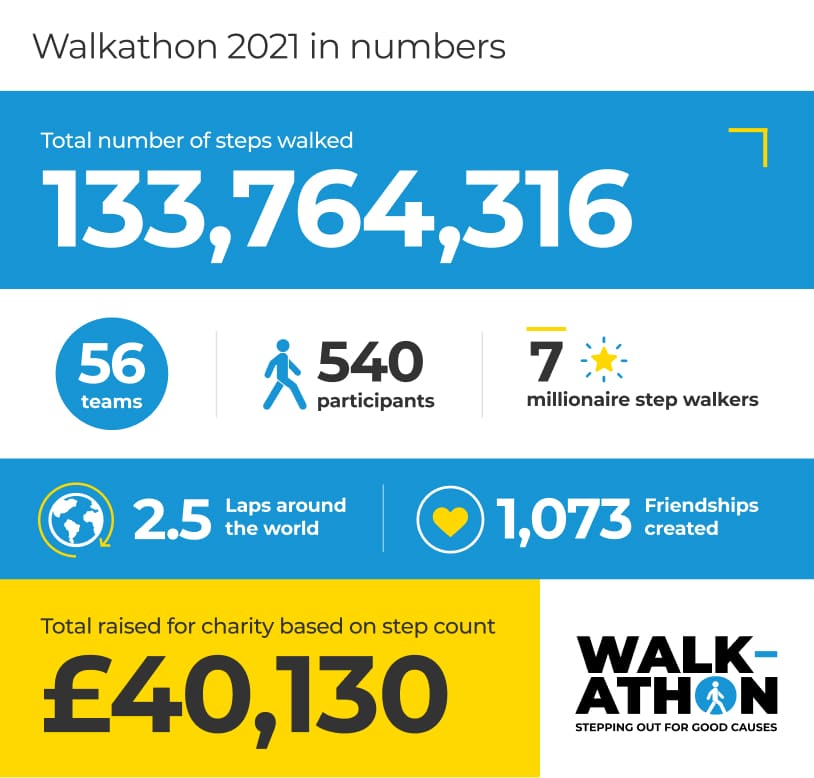 With Equal Experts pledging £3 for every 10,000 steps, the following charities will benefit from everyone's efforts:
And with our hearts going out to our friends in India during the Covid-19 crisis, we added an Indian charity element to our list of charities during the event (charity/ies tbc), for whom we raised £8,850.
All this means that in total we raised £40,130 for charity, making this the most successful walkathon ever!
How many times around the world did we walk?
Across the 540 participants, in 56 teams, we collectively walked a staggering 133,764,316 steps. To put it another way, we walked 95,141km, equivalent to nearly 2.5 times around the world! 
In terms of winners, well – everyone's a winner! That said, team 'Walkie-Talkies' won the 2021 Equal Experts Walkathon by averaging an amazing 20,000 steps a day throughout the entire month.  This was a team from Pret A Manger made up of vickyke, matka, xavier25, yoyoxx, uber69, baldandbankrupt, peterlgw and adrianag.  Congratulations to you all!
And congratulations to "baldandbankrupt" for walking the most steps overall – a massive 1,298,584. That's the equivalent of walking from the northern tip of Scotland all the way down to the south coast of England.  We'd also like to congratulate the rest of the top 10:
G&T

The 39 Steps

The Walking Dread

The Slow and the Furious

Armasteppon

Holy Walkamolies

Sandwich Way Shall We Go

Her Majesty's Rambling Collective

One Step Beyond
And the top 9 walkers after "baldandbankrupt" were as follows – and please note that the top 7 were all millionaire walkers, as in they all walked over a million steps each this May – WOW!
magnematt

–

millionaire walker

elmicas

–

millionaire walker

lisacopland

–

millionaire walker

matka

–

millionaire walker

nitish

–

millionaire walker

phantomsteps

–

millionaire walker

maxine_t

vaishaliv

jessmitic
It's been terrific to welcome family, friends and customers in unprecedented numbers to the walkathon this year.  We were blown away by the enthusiasm of the 180 participants from Pret A Manger, as well as those eager and committed walkers from HMRC, John Lewis and Springer Nature, among others who joined in too.
Everywhere we looked we saw people getting to know one another, grow competitive with their "walking arch enemies," and share lovely photos from their walks around the world – from New York to Sydney via Bangalore, Pune, Cape Town and many, many more cities around the world.  After such a tough year for so many of us, those beautiful pictures of nature and pets and wildlife really gripped our imaginations (and made us want to travel again).
Thank you everyone – we can't wait to do it again next year!