Walking for good – an update on the Equal Experts Charity Walkathon 2022
We are currently at the halfway point of the Equal Experts Walkathon 2022 – and you're totally smashing it. 
Every May, we organise a charity Walkathon where people sign up to raise money for good causes, by walking as much as possible over the month.  This year, we have once again welcomed our customers, friends and family to join as well and are thrilled that 880+ people are walking all over the world for a good cause – nearly twice as many as last year!

Many of our friends from Pret A Manger have once again joined us in getting their step counts up to help raise money for The Pret Foundation, which supports local charities and projects to help break the cycle of homelessness.  We're also thrilled to welcome teams from John Lewis & Partners, Waitrose, HMRC, Thames Water, Disney, Awaze and Flaconi.  And we've added John Lewis & Partners Give A Little Love charities to our donations list.

Here's what you've achieved so far:
Collectively we have already walked

3.2

laps of the world. That equates to

£88,261

raised so far!

Our top walker (to date) has already walked the equivalent of

Amsterdam

to

Copenhagen

!

Top teams info: The

Waitrose DigiOps team

, who are averaging almost 20,000 steps a day (earning £1,480 so far for their chosen charity). Hot on their fundraising heels (literally!) are The Walkie-Talkies.
We always have a good laugh at some of the ingenious team names too – favourites this year include HEEL Today, Gone TOEmorrow, Eurotrash, and Cirque du Sore Legs. Hopefully the joy of seeing how much they've raised will make up for the aching calf muscles!

Why walk for charity?
For every 20 steps we take, Equal Experts will donate £0.01p to the following charities. You just choose the one that resonates most, and we do the rest. Apart from the walking – that's down to you! The more steps we take, the more money Equal Experts will donate.  In the meantime, please consider donating directly by following the links below:

Towards the end of May, we'll be sending a survey to all participants for them to choose which charity they'd like their steps to be donated to.

Once again, it's just so exciting to see you all walking and talking all over the world.  Thank you to everyone for the steps you've taken so far – you're helping to make a big difference to some very worthy causes.

During May 2021, over 500 people around the world participated in the annual Equal Experts Walkathon – to keep fit, make friends, and help raise money for a charity of their choice.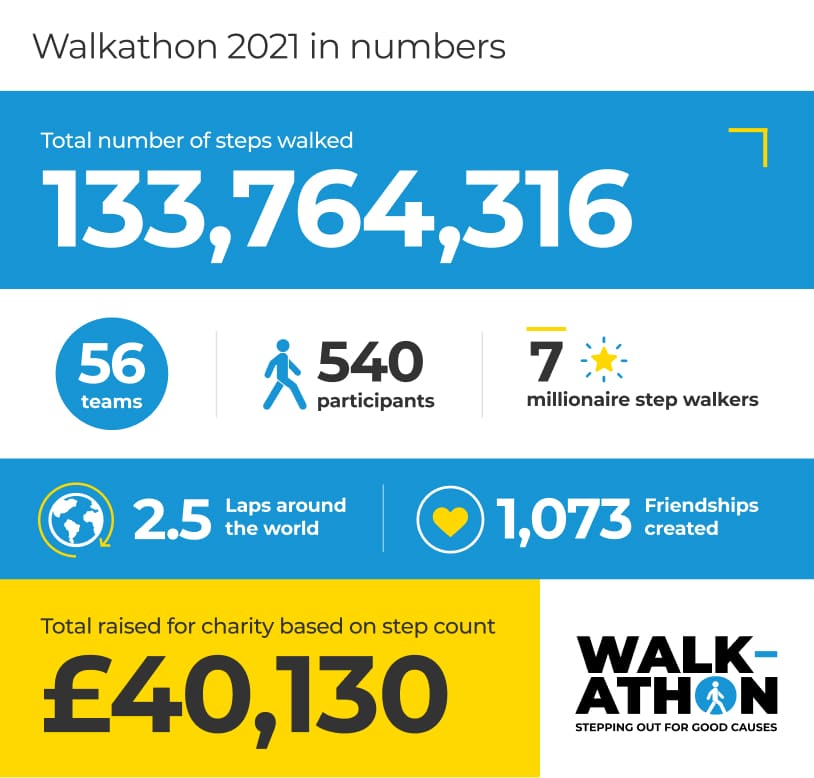 With Equal Experts pledging £3 for every 10,000 steps, the following charities will benefit from everyone's efforts:
And with our hearts going out to our friends in India during the Covid-19 crisis, we added an Indian charity element to our list of charities during the event (charity/ies tbc), for whom we raised £8,850.
All this means that in total we raised £40,130 for charity, making this the most successful walkathon ever!
How many times around the world did we walk?
Across the 540 participants, in 56 teams, we collectively walked a staggering 133,764,316 steps. To put it another way, we walked 95,141km, equivalent to nearly 2.5 times around the world! 
In terms of winners, well – everyone's a winner! That said, team 'Walkie-Talkies' won the 2021 Equal Experts Walkathon by averaging an amazing 20,000 steps a day throughout the entire month.  This was a team from Pret A Manger made up of vickyke, matka, xavier25, yoyoxx, uber69, baldandbankrupt, peterlgw and adrianag.  Congratulations to you all!
And congratulations to "baldandbankrupt" for walking the most steps overall – a massive 1,298,584. That's the equivalent of walking from the northern tip of Scotland all the way down to the south coast of England.  We'd also like to congratulate the rest of the top 10:
G&T

The 39 Steps

The Walking Dread

The Slow and the Furious

Armasteppon

Holy Walkamolies

Sandwich Way Shall We Go

Her Majesty's Rambling Collective

One Step Beyond
And the top 9 walkers after "baldandbankrupt" were as follows – and please note that the top 7 were all millionaire walkers, as in they all walked over a million steps each this May – WOW!
magnematt

–

millionaire walker

elmicas

–

millionaire walker

lisacopland

–

millionaire walker

matka

–

millionaire walker

nitish

–

millionaire walker

phantomsteps

–

millionaire walker

maxine_t

vaishaliv

jessmitic
It's been terrific to welcome family, friends and customers in unprecedented numbers to the walkathon this year.  We were blown away by the enthusiasm of the 180 participants from Pret A Manger, as well as those eager and committed walkers from HMRC, John Lewis and Springer Nature, among others who joined in too.
Everywhere we looked we saw people getting to know one another, grow competitive with their "walking arch enemies," and share lovely photos from their walks around the world – from New York to Sydney via Bangalore, Pune, Cape Town and many, many more cities around the world.  After such a tough year for so many of us, those beautiful pictures of nature and pets and wildlife really gripped our imaginations (and made us want to travel again).
Thank you everyone – we can't wait to do it again next year!