Our Thinking
Fri 20th September, 2019
The state of mobile development in NYC
Hiring mobile engineers in NYC is tougher than ever, creating a challenge for the growing number of companies requiring robust, business-critical mobile platforms. Navigating this requires adopting a strategy that recognizes the market and capitalizes on what makes your business unique.
I'm a technical principal at Equal Experts in New York City and lead the company's North American mobile engineering practice. Before this, I spent eight years building mobile tech and mobile tech teams in NYC, through a period of rapid technical change that has transformed countless sectors and businesses.
This article is a practical guide to the current mobile landscape in NYC including how we got here, what's shifted in recent years and ways to achieve success if a change is needed in your mobile strategy.
The last 11 years
The tech world has changed a lot since the first mobile apps hit users' pockets back in 2008/2009. Mobile applications have changed the way people go about their day-to-day lives. We're just 11 years from the start of all this, and when we look at what's happening in the larger tech sector as a whole, it's arguable that we've only begun to scratch the surface.
Number of mobile apps. Period
The number of apps on Apple's App Store is growing consistently and there's no indication that this will slow. If anything, as enterprise and B2B apps continue their growth (there are strong indicators this area is underutilized at the moment) we will see this rate go up. Let's look at a few interesting numbers.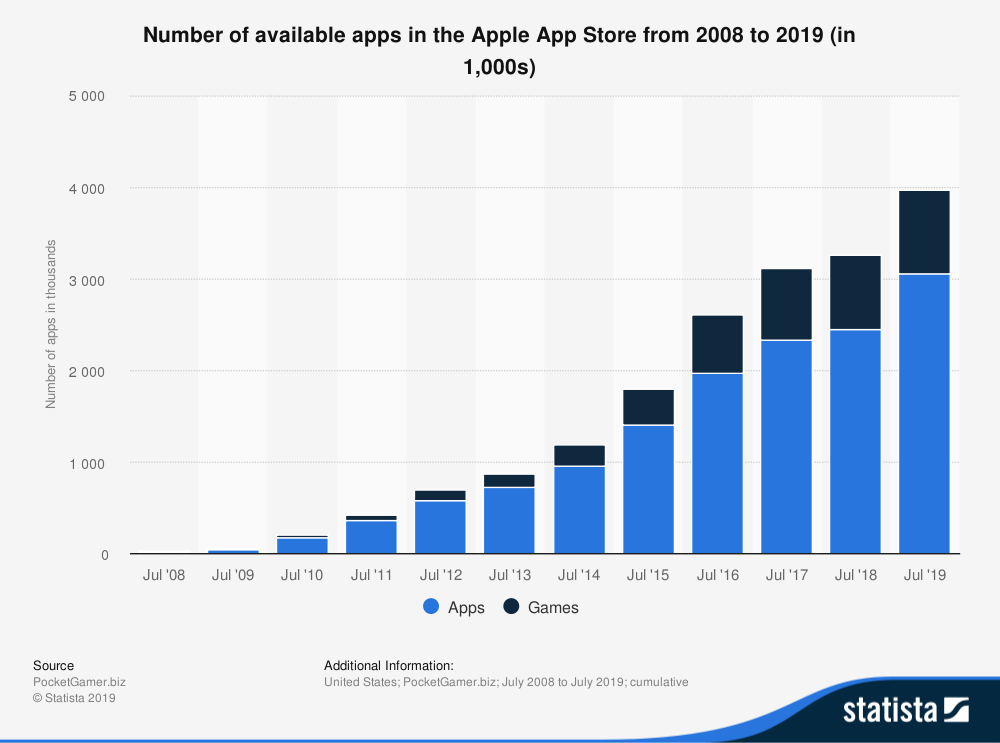 Mobile has become ubiquitous
As new technology sectors appear and existing ones morph or expand, people increasingly expect there to be a mobile gateway to the new services and devices entering their lives.. Consider one genre of tech known as 'Deep Tech'. This covers technical areas that often involve substantial scientific advances and high tech engineering innovation such as  robotics, agtech, AI, Big Data, & advanced manufacturing. This area of tech has seen massive growth, and companies that innovate in these areas are often building a mobile product to provide value in the right moment.
Mobile landscape shift in NYC
Up to now we've talked more generally, so now let's take a dive into both the growth of the mobile tech sector in NYC and what's now happening in it. In each of the next areas we look at we may zoom out to take a general look before analyzing NYC specifically.
Mobile developers vs. demand
The number of mobile developers has grown globally. In 2014 there were around 8 million active mobile developers (this is determined as activity in Github and other public version control platforms)… Today there are 13 million.  That's 62% growth in active developers, while the number of apps in the Apple App Store has grown three times (see earlier graph). While not all apps need an active developer, many do require a full team. Put simply, there's more app development than there are app developers, which goes some way to explaining why it's so hard to hire good engineers.
You'll get more proof of this by going to an NYC job board and viewing the number of open posts under a search phrase like  'mobile developer'. This one taken in Sept, 2019 has 3,339 results!

Being a community organizer (I'm involved in 2 iOS meetups in NYC)  has also allowed me to keep a pulse on what's happening and I've absolutely felt an increase in demand for talent. CTOs, engineering managers, and individual contributors come to meetup events scouring for engineers to add to their mobile teams.
Venture capital funding
Over the last decade, VC funding has poured into the NYC region, earning it the 2nd place ranking as a startup ecosystem (behind Silicon Valley but ahead of London and Beijing). This is really so important. Investors have identified and targeted under-explored markets. Since the increase in VC activity in NYC, many major new players are on the scene across a myriad of industries. Think Oscar, Peloton, Etsy & ZocDoc to name a few. This has also encouraged many new industries and established companies to move here and feel the energy and competitive presence of new innovation.
Arrival of the big guys
Many tech giants have arrived in NYC over the last decade – again, probably inspired by the city's activity and energy. They've got aggressive hiring quotas and dedicated recruiting teams. At times, it can seem like they're vacuuming up the talent. I've personally watched some of the best engineers I know take jobs with these companies, but they don't get all the great engineers. If you're a small company or one with less techy-appeal, it's worth remembering that:
Not all great engineers want to work at a tech giant
Bigger companies often miss the boat on really awesome talent because of unaligned interview processes
Developer Bootcamps
My experience with graduates of these programs is 100% positive. If someone's got the drive and determination to push themselves through one of these and graduate, they're demonstrating that they're hardworking and savvy. They also frequently come from non-traditional backgrounds and bring all the benefits that come with having a diverse team..
What I have found, however, is that they are most often not ready to write production code. They need years of support… and that's cool. You know you've got someone who's going to work hard to get there.
There are many people out there who've come into mobile this way, and it's tempting to turn here when looking to scale a team fast. However, companies who over-hire bootcampers or junior engineers in general are likely to miss their milestones and potentially end up with throw-away codebases. I've seen it happen… frequently.
Hire these energetic go-getters, but make sure they've got leadership and a supportive team around them. They will then thrive and surprise.
Salaries
I don't want to use the word 'skyrocketed' here, but it's hard to think of another effective word. It's my understanding that salaries for a mobile developer have increased by nearly 50% for both mid-to-senior through to lead-level roles in the last decade.  Get ready to pay top dollar for a local engineer.
The challenge
We've established that now is an incredible moment both for technology and the mobile development scene. In such a fast moving ecosystem, many businesses are finding themselves needing a more and more aggressive mobile strategy to keep up with demand and market  expectations.
When I encounter a company looking to make a strategic change in its mobile development strategy, they generally fall into one of the following positions:
Starting from scratch: This is starting out with a totally new greenfield (often mobile-first experience or product) and is building everything from scratch. This is also frequently the early startup position.
Going mobile: There's an established product-market-fit an existing product, but there's readiness to bring a version (or spinoff) of it to users as a mobile experience.
Fallen behind: There's an established mobile app that either fits into a larger product offering or is the primary offering, and it's stagnated – often having fallen behind on roadmap. This could be because it was initially outsourced and handed off without a maintenance plan or it's team has maybe encountered some churn.
While there are major differences in technical strategy between these different positions, there is one thing that is central to success across them all.
It is CRITICAL to put together the right team to be able to execute goals and achieve business success.
I want to return to the growing relevance of mobile in business success. Whether mobile platforms are serving consumers, business clients or internal employees, expectations are growing across the spectrum for what gets delivered in terms of robustness and reliability. Mobile products that do not respond to these expectations are increasingly doomed to fail.
The challenge is that it's difficult to move fast in mobile when it's such a challenge to build a team that can do so!
Recommendations
If you are trying to build a mobile strategy in NYC, so far I've presented a discouraging picture! Finding great talent is hard, and there's an increasing competition and user demand for higher quality mobile products.
But there CAN be success!  Options are out there. In generating an effective strategy, I like turning to a concept we use at Equal Experts in project inceptions called 'tradeoff sliders'.
The exercise works by first identifying priorities for a given project followed by ranking those priorities.  Two priorities can't have the same ranking.
Consider the following priorities for a given set of mobile project milestones:
Time to market
Feature Robustness
Codebase Longevity
Internal team growth
Cost
Here's an example of how the ranked prioritizations may look: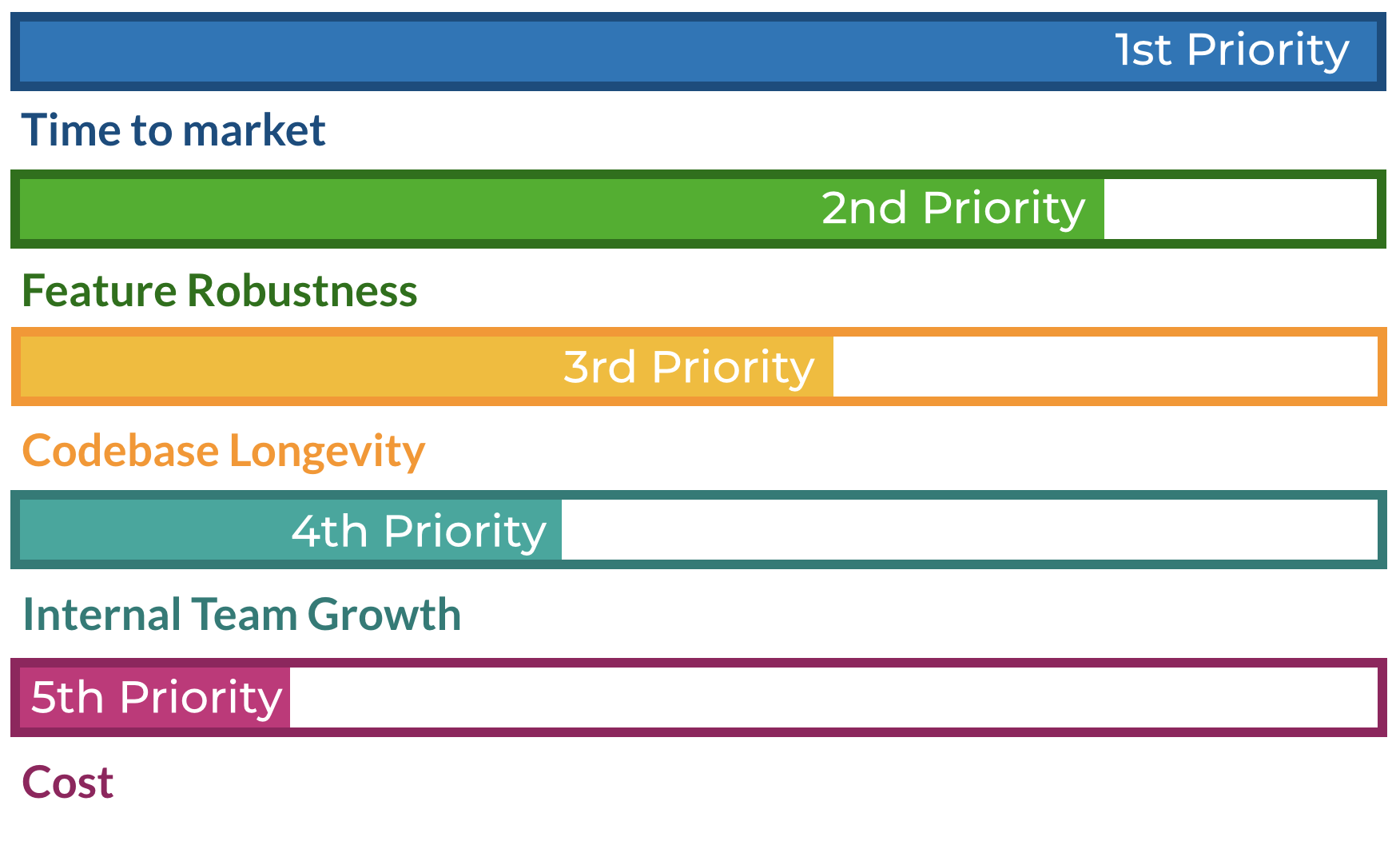 It's easy to say 'We want them all!', but this is rarely possible. By ranking, you land on what is truly the most important priority and this can ensure that you make decisions that align.
If 'Time to market' and 'Feature robustness' are high priorities, there may not be time to build that incredible team. Bringing in some experts to help get things off the ground could be the best early move.
If the highest priority is building out your own team, often you can get help from that outside your company as well. My advice as someone who's built many tech teams is as follows:
Don't rush with hiring the first few team members. They will set the culture and act as attractors, bringing in people who'd like to work with them.
Hire a leader first and make sure they can lead.
Watch the spread of experience as you hire more. It's ideally best to start out a complex project with as many experienced engineers as possible who can lay strong patterns from the get-go.
Be realistic about your roadmap and what you can achieve while you build your team.
Play to your strengths. Identify what about your business makes you attractive to any individual candidate.. then promote it accordingly!
Take your time!
In closing, while it can be a challenge growing a world-class mobile team in New York City, don't be put off – consider your priorities, play to your strengths and strategize accordingly. It's an exciting time to be in tech and in NYC. With diverse industries and a huge pool of talent, New York and the companies that call it home are benefiting from the strengths present here.
[I love hearing from different members of the NYC mobile community on their strategy. If you'd like to chat, please get in touch!]