The Business Evolution Map, Part 4 – Domo Arigato Mr Roboto
With the global pandemic of 2020 and the depression that followed, came the realisation that our economic system was hugely vulnerable in the face of disruptive events. Companies inevitably rushed to automation more than ever before, and the emerging AI & Robotics business sector played a pivotal role in this transition.
Why the past tense?
Because, regardless of whether it's right or wrong, this is what will happen. This blog post does not look at whether Robotics is the future, but who is best placed to succeed. As a new economy emerges from the other side of this pandemic, businesses will be forced to question the previously unquestioned: are global supply chains optimal? Is 'Just in Time' manufacturing robust enough to survive future shocks? Do we need offices any more? 
As we adapt to lockdown, industry is struggling to cope with the sudden absence of people from essential processes, and automation is forefront in their minds. Previously, many saw automation as a way to remove human fallibility from well defined, repetitive processes in order to improve quality and productivity. Now it will focus much more on removing people completely from the process in order to remove a point of failure.
Automation of production lines has long been a thing, and although people play an important part in these lines, they are treated more as a cost/benefit equation than as the actual human beings they are. If (and it is a big if) we see a new economy emerging over the coming months – one that incorporates elements such as a more than minimum living wage or a universal basic income – then that cost/benefit equation will swing even more towards automation, adding to the sense of vulnerability businesses are now feeling. 
Given the extent of the damage caused to businesses by the lockdown, companies will now look for solutions throughout the supply chain, not just in the factories. They will accelerate the development and introduction of self-driving vehicles; they will roll-out Amazon Go – style self-service retail stores; they will copy Ocado and Amazon and replace people with robots in their warehouses.
This is a dangerous strategy, as it represents a swing of the pendulum to another extreme, and as discussed in Part 3, specialisation leads to fragility in the face of disruption. Imagine, if you will, what happens to this automated world in the face of a virus of the electronic variety.
Back to the Map
Rightly, or wrongly, it will happen, and so the more important question relates to which industries are best placed to capitalise on this trend. And so we return to the Map, and another "sea" waiting to become a landmass (business sector) in its own right. We've labelled it AI & Robotics.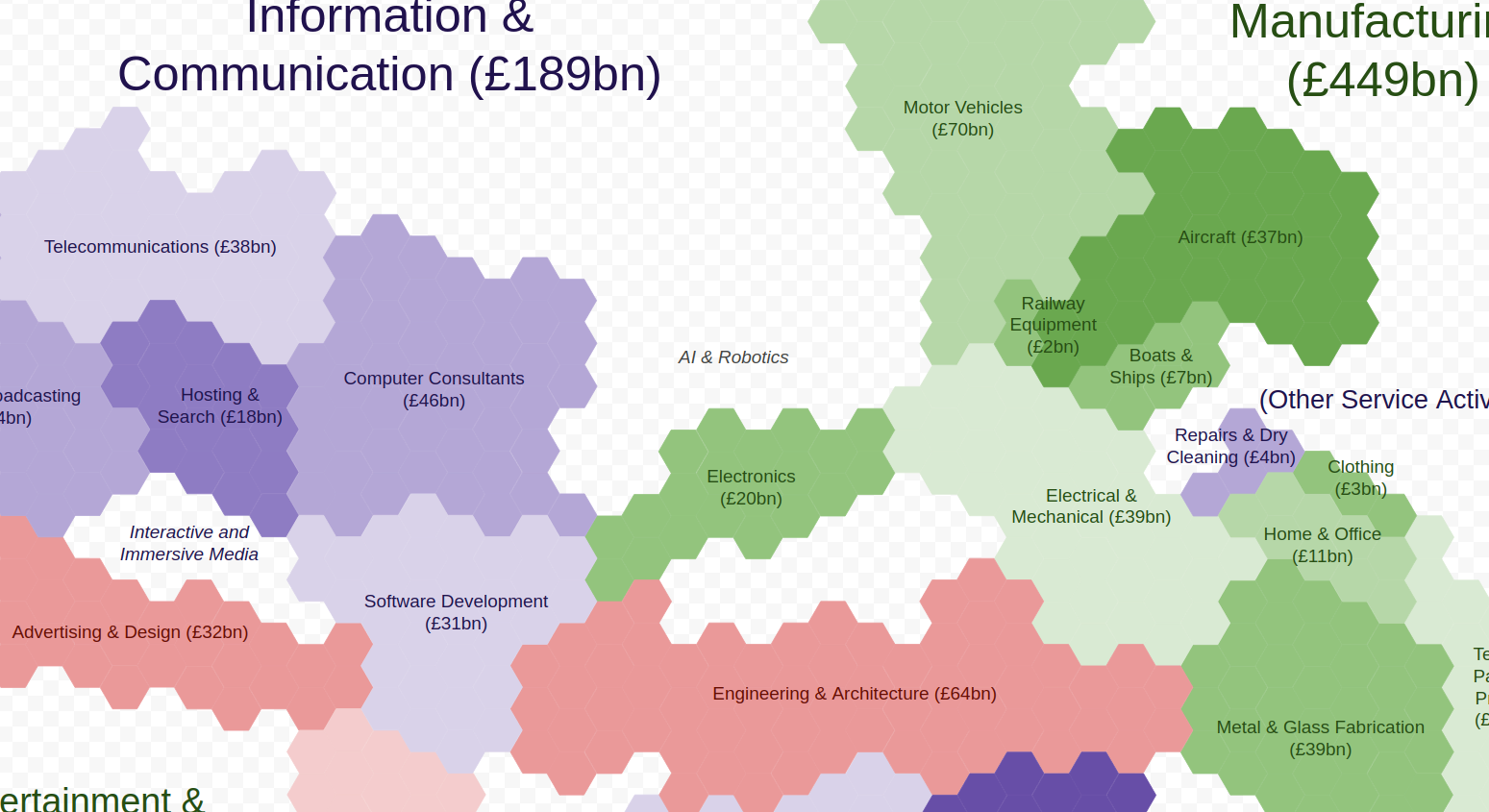 As you can see, the Map shows that the neighbouring territories are Computer Consultants, Software Development, Electronics, Electrical & Mechanical Manufacturing, and Motor Vehicle Manufacturing. Companies in each of these sectors are well placed to enter the field of robotics, and some are already doing so. In each case, the entry point is different and so it's worth looking at a couple of them in more detail by way of explanation.
Step forward Dr. Susan Calvin
In Isaac Asimov's body of work, there are a significant number of stories that centre around intelligent machines. Many of these stories feature Dr. Susan Calvin, who Asimov refers to as a robopsychologist working at US Robots and Mechanical Men, Inc. He postulates that this profession would be a combination of advanced mathematics and traditional psychology, but in reality the need is more likely to revolve around the training, utilisation and integration of Robots into the business world.
This is a reasonable role for companies operating in the Computer Consultants business sector to take on and thus start the migration into the AI & Robotics business sector. Following the disruption caused by the COVID-19 outbreak, and the resulting demand for greater automation, there is a clear opportunity for these businesses to promote their skills in this area and start the journey.
The first areas of greatest demand are likely to be in the production line, and in the warehouse element of the supply chain, where "dumb" robots already play a major role. There will now be a push to further automate the more complex activities currently undertaken by people, and this will lead to a demand for consultants with experience in introducing technology to organisations. Computer Consultants are ideally placed to benefit from this demand, especially if they include software development capability in their offering or partner with companies that do.
Management consultants are less well equipped to help as the level of technical expertise required to understand the art of the possible, and design solutions is far outside their skill set. They will, of course, have a go, but the Map confirms that they are not well placed to enter this sector.
Here in my car
The other area of the supply chain that will, no doubt see renewed demand for automation is that of transportation. This will accelerate development of self-driving technologies coupled with increased pressure from business to make changes to the road transport system to make introduction of such technologies less challenging. We can expect to see proposals for "freight only" lanes, and dedicated telemetry systems to lower some of the barriers to entry.
The companies best placed to occupy this part of the robotics landscape are the Motor Vehicle Manufacturers. Much work has already been done into self-driving vehicles, but most of the focus has been on cars. It is likely that attention will now move onto the larger freight vehicles. Despite their size, these vehicles actually present an easier route into this sector as they generally follow more predictable routes, and travel between a smaller set of end points. 
Transportation companies such as Uber have also tried to make inroads into this area, but the Map predicts a less successful outcome for them, as they are a significant distance from the new area of AI & Robotics. Remember, on the Map proximity indicates similarity of skills and mindsets – companies located in other areas take much longer to develop the required attributes than organisations on the immediate borders. Uber are making the classic mistake of assuming that being a consumer or seller of a product somehow positions you to become a producer in your own right.
Stuck in the middle
So, that covers the types of business that will benefit from the inevitable demand for automation, but what about the demand itself? At the start of this post, (and in previous posts) we've discussed the dangers of specialisation and the increased resilience that comes with diversification. It is for this reason that a headlong rush to "automate all the things" could create as many problems as it might solve. It would also lead to an unmanageable portfolio of change that could cripple an organisation during what will inevitably be an extended recession.
One of the more difficult decisions for most companies is where technologies such as AI and machine learning can and should be effectively deployed. There is much talk of AI as the answer to everything, but there are places where it is most appropriate and places where it is less useful. There is also the confusing matter of machine learning algorithms versus "true" AI in the form of neural networks. The same question arises – which to use and where.
The problem is complex, but as a starting point here is a simple 2×2 grid (because we all love a 2×2 grid):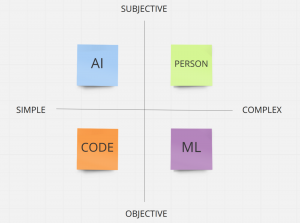 The horizontal axis represents the sophistication of the problem being solved ranging from highly complex (multiple variables and multiple outcomes), and the vertical axis represents the nature of the decision to be made ranging from fully objective (where there is little or no doubt) to highly subjective (where the outcome is open to interpretation and opinion).
For highly complex problems involving a significant amount of subjective judgement, people are by far the best suited to this type of activity. At the other extreme, simple problems with highly objective outcomes can easily be automated using traditional and well understood hard coded solutions. 
As we remove subjectivity from a problem best suited to people, or add complexity to a problem currently solved using traditional code, machine learning algorithms come into their own. These are complex, knowledge based solutions that take broad sets of inputs to make a decision in a predictable and traceable way. The automation of the NHS 111 service is a good example of a problem well suited to machine learning.
Heading in the other direction, if we can take some complexity out of the decisions currently made by people, or there are simple problems that were previously not automatable using traditional coding techniques due to the desired level of subjectivity, we now have AI as a solution. Familiar examples involve identifying the subject matter of documents, interpreting medical scans or identifying people or behaviours in CCTV footage.
The same grid can be applied to physical robotics. In the bottom left square we have the type of machines we're all familiar with on car assembly lines. In the bottom right, (Complex/Objective) space we have the potential for automating surgical procedures. In the top left AI opens the door for semi-autonomous machines such as exploration vehicles. Self-driving cars sit on the boundary between the top left and right squares, and this is why the problem has proved so difficult to crack. Deliberate simplification of the problem by altering the highway environment (or reducing the scope as described for freight vehicles) could accelerate the introduction of such vehicles faster than advancements in the current level of AI might achieve.
And let's not forget that automation does not have to mean less people; far from it. History has shown that as machines take over in one area of human endeavour, this opens up areas previously ignored. If social distancing has taught us anything, it has told us that personal contact is essential to our wellbeing and to the success of our businesses. Instead of replacing people with robots, think instead of using technology to do the mechanical things, and free up people to be more human.
And so that brings to a close our quick visit to the new landmass that is the AI and Robotics business sector. In part 5, we'll look more broadly at the Map and how things might unfold as we move out of lockdown and into a time of financial uncertainty. We'll look at the challenges, but more importantly we'll seek out potential green shoots and identify where they could emerge.
Part 1 – Dealing with disruption
Part 2 – A fascinating journey, explained 
Part 3 – The Rise of the Avatar
Part 4 – Domo Arigato Mr Roboto – (you're here)