EE Life
Tue 23rd May, 2023
Walkers! You only have one week to go!
It's that time of year again, and boy do we have some stats to bring you at this point of the Equal Experts Walkathon 2023! On your marks…
What is the Equal Experts Walkathon? 
Each May, we come together as a network, with customers, friends and family, to blaze a trail all around the world whilst raising money for charity. Every year the numbers grow, and this year is no exception, with 1,200 walkers and 99 teams – way more than ever before – counting steps to add £££ to the charity of their choice. 
Once again, we're delighted to have several customer teams in our ranks, including HMRC, John Lewis & Partners, Waitrose, Disney, Awaze, HMPO, Open University, Hargreaves Lansdown, Travelopia, HACE, Tesco and once again our friends at Pret a Manger. They're taking it seriously too, with 4 of them currently in the top 10! 
What's in it for you? 
Quite simply, (and apart from the exercise) it's fun! The chat stream in the Walkathon app is a daily inspiration of beautiful views, interesting pub names and fascinating wildlife – so much more gets noticed when you're walking! 
It's social too. You are egging each other on, with friendly competition, and at our conference last week in London we needn't have worried about transport – many chose to walk between venues! Lots of connections were made as you snapped the views in iconic Regent's Park: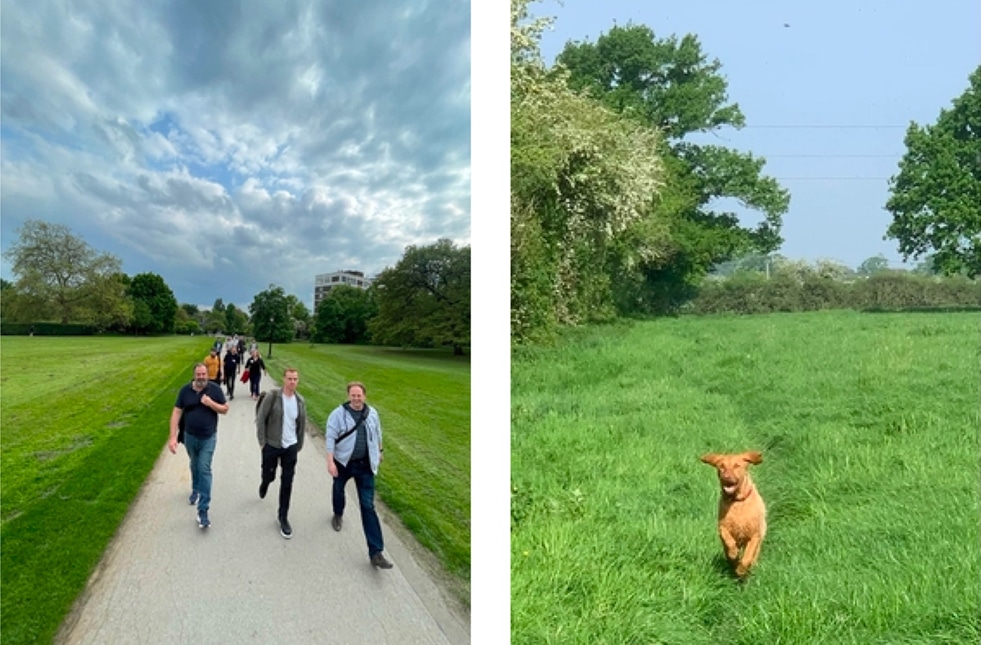 Your pooches have been clocking up the steps too.  The legendary Walkathon Watson is having a good month following dog dad Duncan Cheshire – with 4 legs, we reckon he's doing double his owner's steps, coming in at a canine 636,600 (there's still time for him to become a millionaire walker)! 
How your steps add up
We're so inspired by your energy!  Team names continue to make us smile, with Northern Sole currently in the lead, and Chafing the Dream not too far behind. The aptly named Walt-A-Ton are living up to their name, and we imagine The Red Hot Chilli Steppers dancing their steps, while Feet of Engineering must be pacing at their laptops.  So far, you've walked a whopping 4.4 laps of the world.
For every 10,000 steps we take, Equal Experts will donate £4 to charity (that's 1p per every 25 steps) – here's a list of the charities you can choose to add your steps to when the Walkathon finishes at the end of May:
In the meantime, please consider donating directly by following the links. 
Keep the photos coming – you might even be selected for "photo of the day" on the Movespring app. We can't wait to see how far you go!