EE Life
Fri 10th June, 2022
Connecting across the world thanks to the Equal Experts Walkathon 2022
During May 2022, over 800+ people around the world participated in our annual Equal Experts Walkathon – that's a lot of you gearing up your activity levels for some friendly competition in the name of good causes. 
5, 6, 7, 8 steps and more to the Walkathon 2022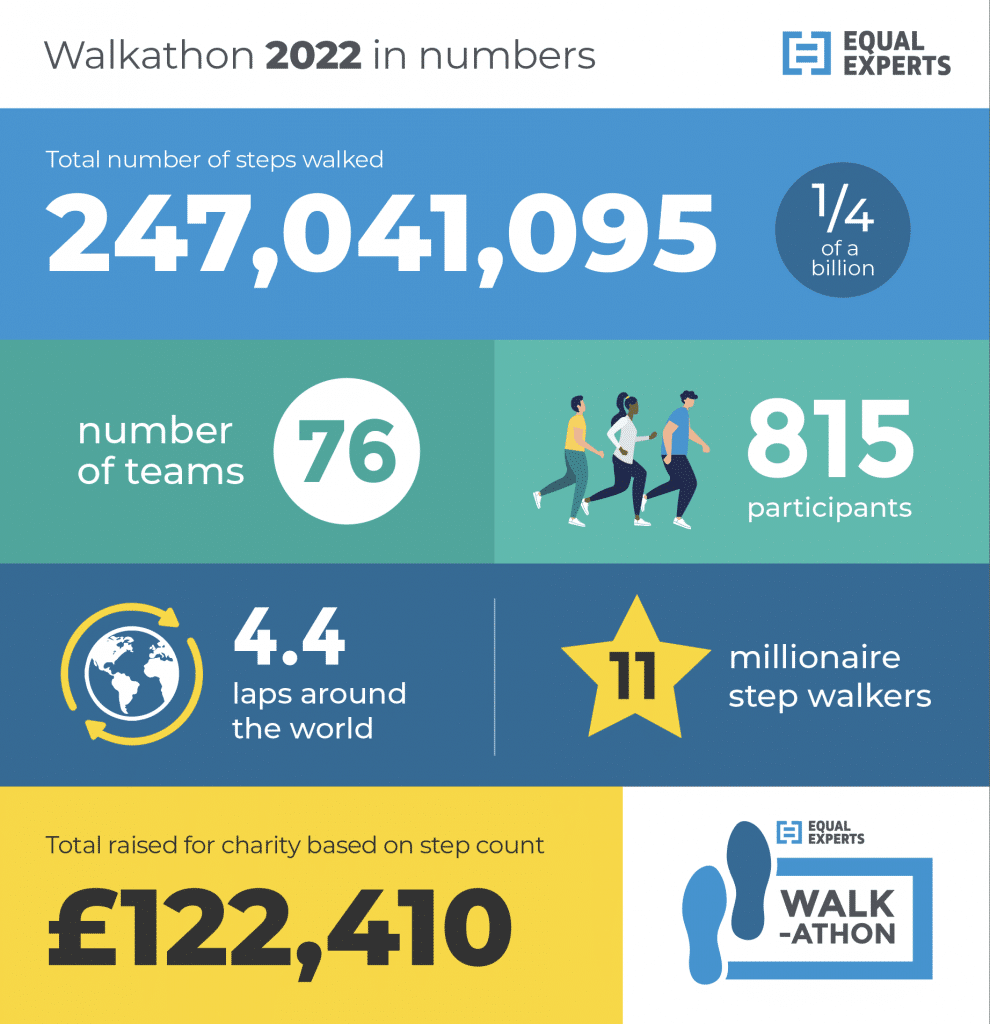 ​​
Equal Experts pledged to donate £0.01p for every 20 steps walked per person, and gave a choice of charities for walkers to support. As a result of all your happy feet, we will be making donations to the following charities:

The Pret Foundation – £33,108
Medecins Sans Frontieres (Doctors Without Borders) (MSF) – £25,158
Save the Children – £23,892
The John Lewis & Partners Give A Little Love charities – £22,063
The British Red Cross – £18,189
In total we raised £122,410 for charity – tripling how much was donated last year!
Some steptacular highlights of the 2022 Walkathon
Top walkers:
This year we had not one but 11 "millionaire" walkers – if you do the maths, they all walked a minimum of 32,300 steps per day x 31 days!  But most walked way more than that from the start and some in fact walked the equivalent of a marathon each day of the entire challenge. 
Congratulations to the overall winner, Sandra Eleutério (aka Sandra_01), from Pret A Manger who walked a staggering 1,561,491 steps (755 miles/1,215 km). She was followed closely by the rest of the top 11 walkers who left the rest of us in the dust!
2. Dionisio Lucca – Pret A Manger (2021 winner!)
3. Mahesh Kumar Jeyaraj – Waitrose
4. Vignesh Maller – Waitrose
5. Daniella Luca – Pret A Manger
6. Daniela Grandio – Pret A Manger
7. Olivia Walsh – Equal Experts
8. Matt McGuire – Equal Experts alumnus
9. Gokul Rajendran – Waitrose
10. Silviu Peride – Pret A Manger
11. Ben Conrad – HMRC

Winning team!
Team Waitrose DigiOps won the Equal Experts Walkathon 2022 by averaging 30,096 steps per day throughout the entire month. This was a team from Waitrose and John Lewis & Partners and was made up of Daniel Ascher, Veera Ragavan Krishnaraj, Naren Ravichandran, Mahesh Kumar Jayaraj, Gokul Rajendran and Vignesh Maller. While we'd love to name them all, we will just list the following top 10 teams who put their heart and soles (pardon the pun) into making this cut:
2. The Walkie-Talkies
3. HEEL Today, Gone TOEmorrow
4. SML Goes Bananas
5. UK Property
6. JLP Trading & Supply Chain
7. JLP Occo
8. Eurotrash
9. Holy Walkamolies
10.Flacon-ee-s
We once again welcomed participants from the Equal Experts network including our customers, friends and family.  And we were thrilled to welcome back many of our friends from Pret A Manger and The Pret Foundation as well as teams from John Lewis & Partners, Waitrose, HMRC, Thames Water, Disney, Awaze and Flaconi.
It's been wonderful to see the friendly banter, and everyone racking up their steps, with the ultimate goal of doing something good for others who have greater needs than us.
Thank you all for another blisteringly good walkathon!