What do we mean by remote-first working?
The concept of remote-first working is more nuanced than you might imagine. It would be easy to decide that as long as we facilitate remote workers with strategies that allow them to join the in-office meeting the job is done; or to assume that we're asking everyone to stay at home as we did during the pandemic lockdown. But that would be to ignore the valuable lessons that have been learned through having to work remotely.
Lessons that put meeting quality right at the heart of every interaction we have going forward. Why? So that communication flows, meetings are productive, and everyone is in the loop.
So what is remote-first?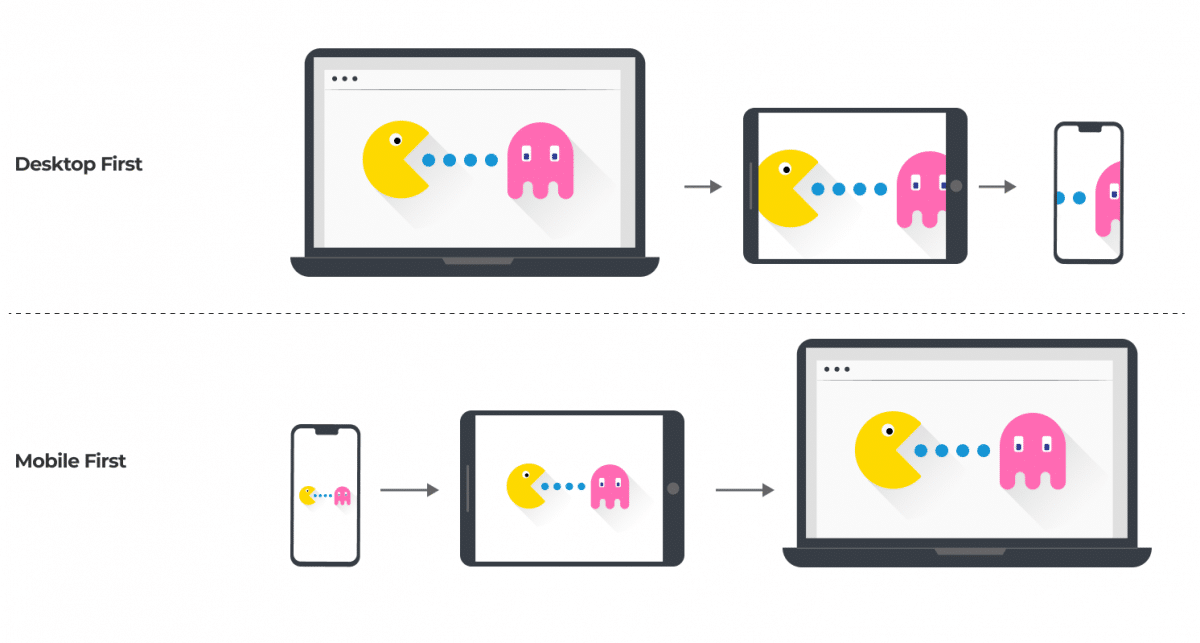 A remote-first definition needs to encompass everything we've learned as working practices have evolved since the 2021 pandemic. Think of it like software development. In the same way software transitioned from being designed for desktops with mobile devices as an afterthought (desktop first), to a strategy that puts the mobile experience at the core of the design (mobile-first), remote-first teams deliberately design the team experience around the virtual office rather than the physical one.
A remote-first working approach should be at the core of the team's working practices and take into account the constraints and behaviour associated with the virtual office.  Essentially, we're looking to create a colocation space virtually, with high bandwidth communication that operates at the same level as if you were physically colocated.
The principle of virtual colocation is to create the conditions that allow teams to be highly collaborative even when some members are working in a remote setting. The setup should increase the connection strength between each link to the point where there is clear common ground across the team that doesn't rely on everyone being in the same place at the same time.
What does remote-first mean in practice?
Remote-first work culture compared to on-prem, remote-ish and remote-only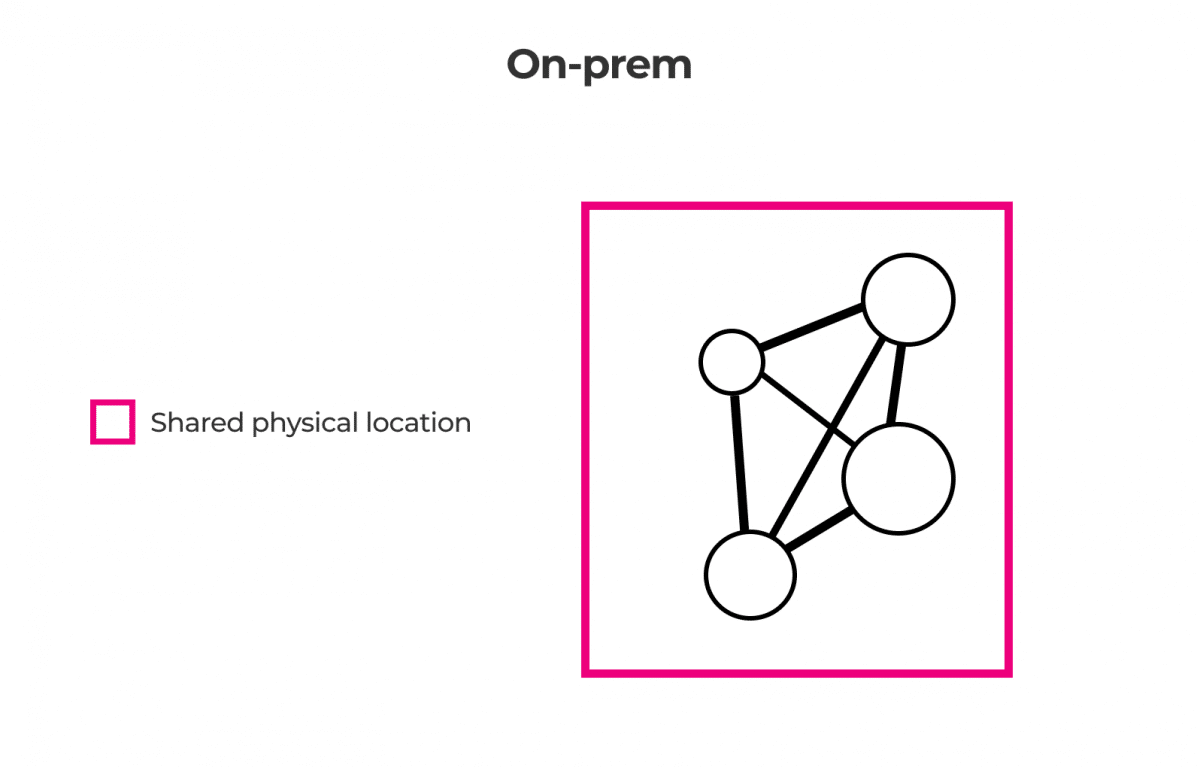 On-prem: Old  school office working. Your company processes, tools and meetings revolve around the physical office.  Key assumption: Communication is designed around the physical workspace (physically colocated).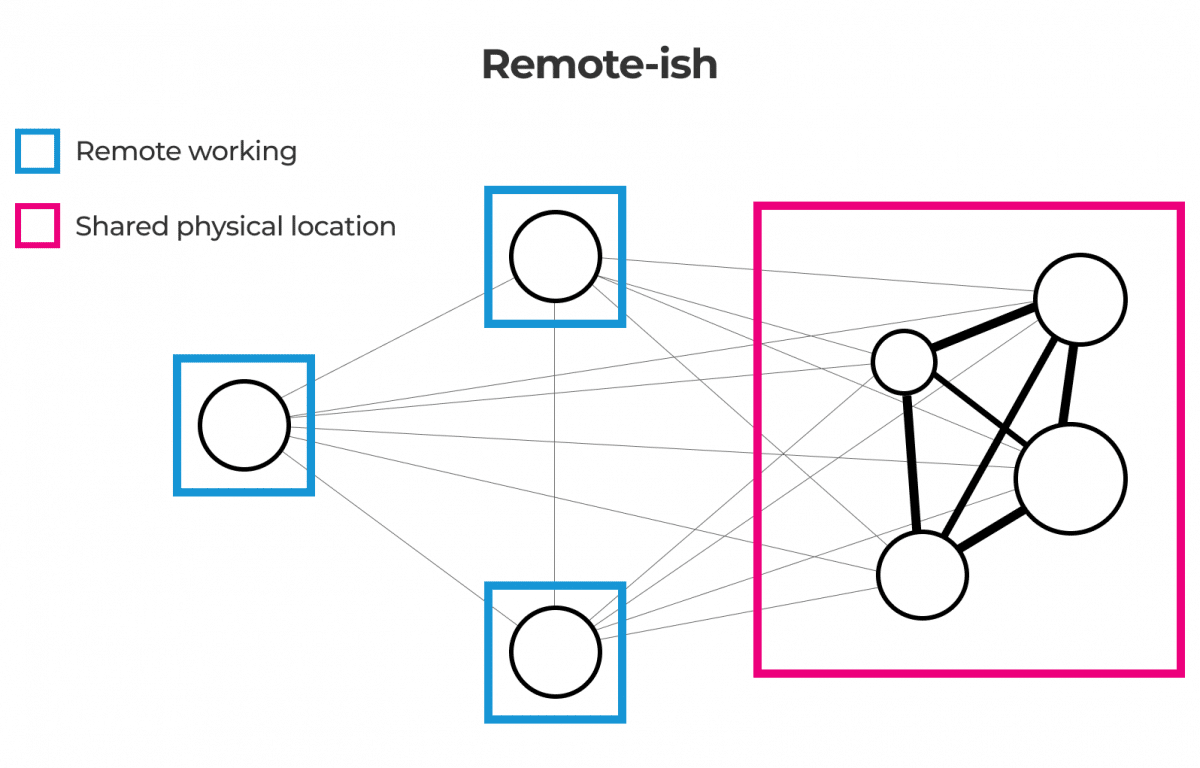 Remote-ish: Your company may allow you to work remotely. But, most of your company's processes, tools, and meetings will revolve around the physical office. As a result, remote teammates often feel excluded from important meetings and company decisions, even if that's not the intention.  Key assumption: Communication is designed around the physical workspace (physically colocated).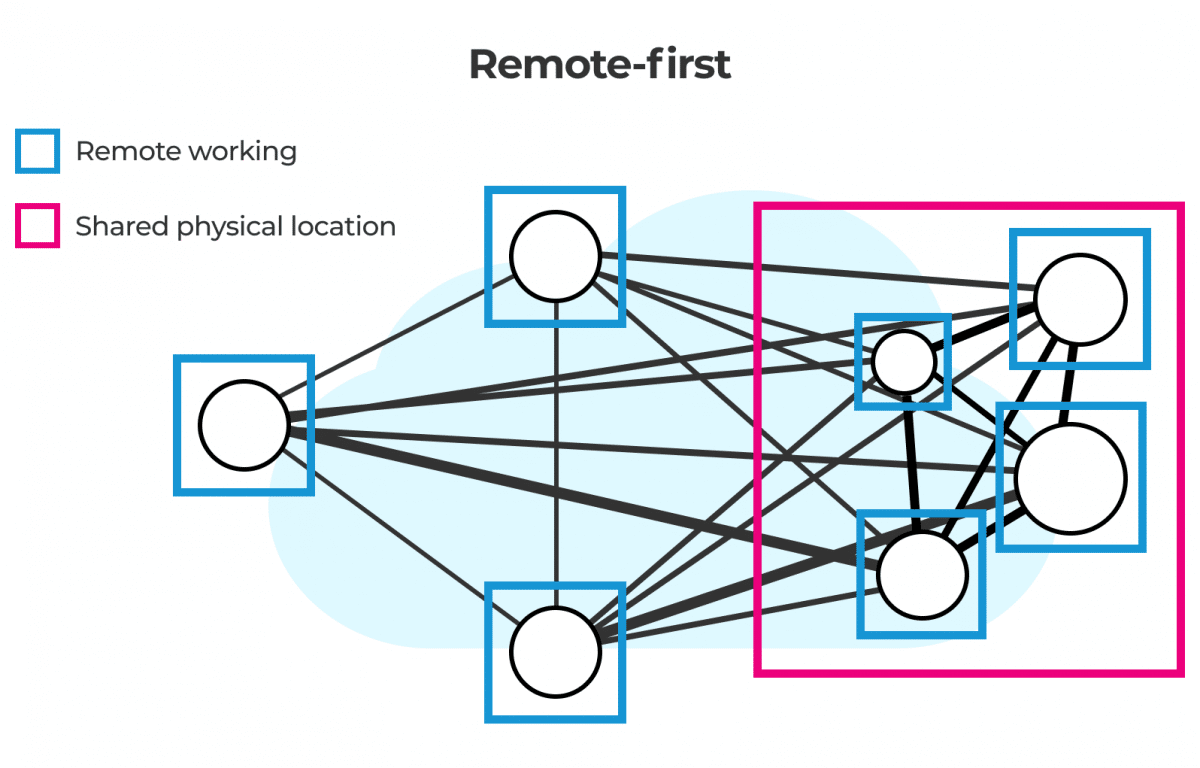 Remote-first: This empowers team members to work remotely, whatever their location. A remote-first team makes decisions online and individuals have their videos on, even if most of the team are in the same room. Tools, ways of working and processes level the communication playing field providing equal opportunities to contribute ideas and access information. Remote-first doesn't prevent team members – or the full team – from holding meetings when needed, eg. for team building or major new project launches, But as long as one person is remote, everyone is considered remote.  Key assumption: Communication is designed around the virtual workspace (virtual colocation).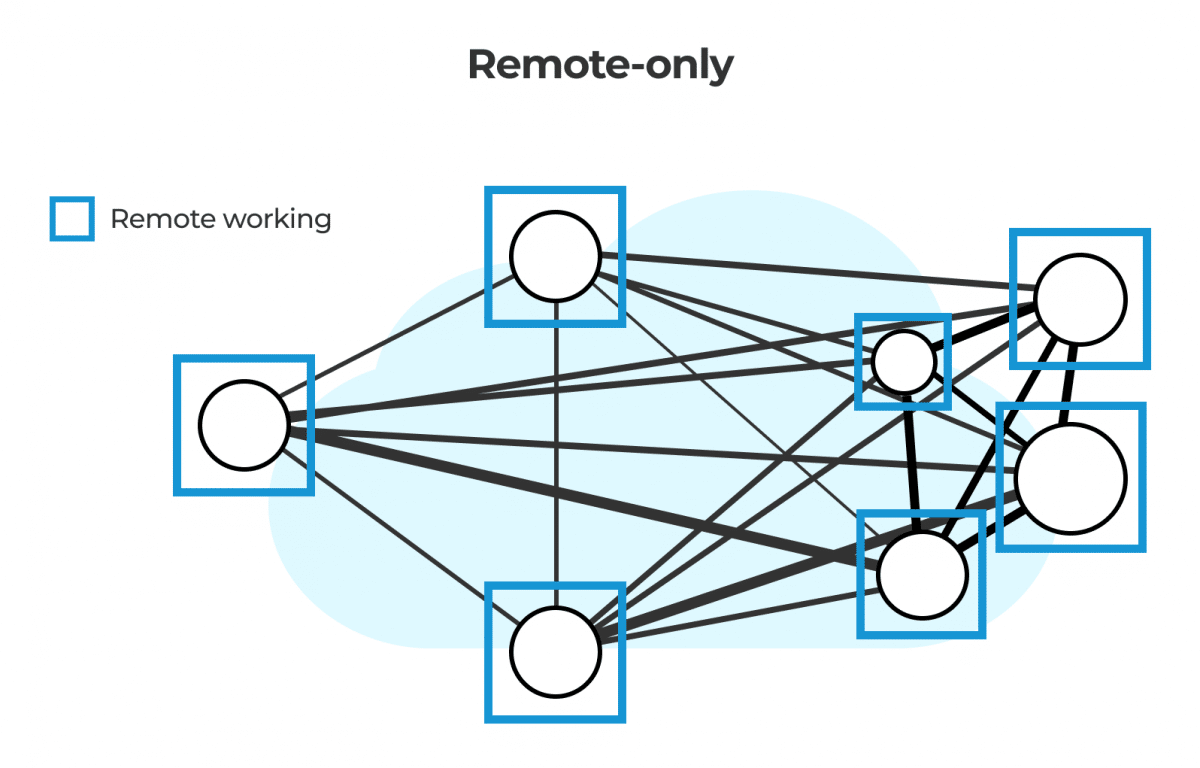 Remote-only: Everything included in remote-first plus no expectation to physically colocate.
Source amended from https://doist.com/blog/remote-career-advice/
Why remote-first working should be the default
Regardless of which office location model you are looking to adopt, as soon as a single team member is working away from the office (eg. for medical or childcare reasons, to allow access for the electrician, or even a dental appointment!), the most efficient communication will happen by adopting remote-first practices.  What it boils down to is this: remote-first working allows the kind of flexibility that means team members could be sitting right next to each other, or anywhere in the world, with no difference in experience or outcomes!
Don't mistake remote-first for remote-only
Be very clear about this. Remote-first working isn't about outsourcing everyone, nor does it mean avoiding physical meet-ups. Instead, once you've decided to go remote-first, the crucial thing is to be intentful about the type and frequency of any meetings that do need to take place in-person.
How to maximise the introduction of remote-first practices
This is where a team charter comes into play; by agreeing on a set of fundamental working practices, you are then able to trust your teams to decide for themselves when an in-person meeting would be most advantageous. Revisiting the team charter regularly, means you can set and revise principles that will inform behaviours to ensure a consistent approach from all members of staff.
Having deliberate, considered factors around the teams' behaviours can also be used to support successful recruitment practices, so that expectations are clear for new team members, and to inform recruiters about geographical constraints.
Why remote-first working is the most productive model
A remote-first culture just makes sense! By maximising remote-first working practices you remove the typical distractions of an office environment, and allow for much more focus, wherever your team is.
But more than that, you gain endless flexibility of choice around how your business operates. Now that we've learned how to make remote-first work so brilliantly, we shouldn't throw the baby out with the bathwater as we consider how we will plan our meetings from now on. Instead, we advocate retaining the continued benefits people have received from working remotely, whilst emphasising the unique opportunity to decouple meetings from locations.
That's really what remote-first means. And the benefits of buying yourself this kind of flexibility are immeasurable!