Why we're excited about Liverpool – the waking giant
At Equal Experts, we're really excited about being part of the buzz surrounding the Liverpool tech scene. That's why we're working with a number of local companies, are growing our network and have started our own ExpertTalks in the city.
We're always on the lookout for new opportunities to work with interesting companies and people. In this post, we've picked out some highlights from the area, but if you have other suggestions, or by reading this post you decide you want to get to know us better, use the details at the end to get in touch!
The Liverpolitan Lifestyle
Liverpool is an amazing city. Everywhere you look there are exciting things happening – from the ultra-hip Baltic Triangle area being voted the fourth trendiest area in the UK in Travel Supermarket's Hip Hangout Neighbourhood Index, to the recent announcement that the beautiful Art Deco Littlewoods building is being transformed into a film studio – earning the city the new nickname 'the Hollywood of the North'.
Local entrepreneurs talk of 'Liverpolitanism' – a unique blend of independent and high-quality thinking, in a local yet cosmopolitan environment. With the city already home to over 50,000 students across four universities, Liverpool boasts other natural advantages, such as a bustling waterfront, a beach, a two-hour train link to London, and an international airport. This unique combination of people and place is one of many reasons why the tech scene in the city is buzzing with life.
The (tech and startup) teardrop explodes
Liverpool is one of the UK's fastest growing hubs for digital companies, building out from existing strengths in design and gaming. According to the latest figures, digital businesses in Liverpool are already generating over £300m annually, and employ nearly 13,000 people.
A recent report from RSM UK indicated a 78% jump in the number of tech startups in the North-West – the highest relative increase in the whole country. All around the city, interesting and valuable ideas that relate to the future of the tech world are emerging. One of our favourites is InnovateHer, which aims to "equip girls aged 12-16 with the self-belief, confidence and skills to pursue a career in technology". Through education and strategic partnerships with digital and tech companies, InnovateHer is working to create inclusive workplaces, and make a difference to gender inequality in the sector globally.
Another interesting example of Liverpool's experimental spirit involves the use of cognitive computing, using IBM's Watson, at the city's Alder Hey Children's NHS Foundation Trust. Staff have been gathering feedback from patients and families to train the platform to anticipate and respond to questions, thereby improving the way the hospital cares for patients. This work helps relieve the anxiety experienced by children and their families when they think about their time in hospital – and any effort to help reduce those worries should be applauded.
Root and branch
These tech successes can trace their roots to earlier decisions, such as the £72m ring-fenced for Liverpool as part of the government's Northern Powerhouse project, making the city the second biggest beneficiary of the initiative. And the dynamic startup ecosystem has been further invigorated by moves such as Santander launching their first business incubator in the city in 2014, and 'Spark Up', the Chamber of Commerce's accelerator programme launched a year later.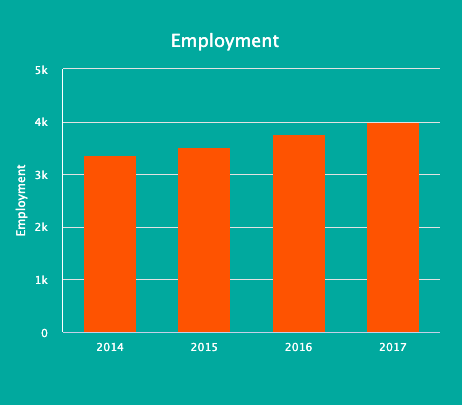 Employment in tech companies is on a positive trajectory in Liverpool. Source: Tech Nation – Liverpool Insights
These investments branched out further last summer, with the city being selected by the government to become one of six 5G testbeds. Using a £3.5m grant, the city will explore how the combination of 5G, artificial intelligence, virtual reality and IoT can help improve public health outcomes for deprived communities. The project's noble and important aims include closing up the digital divide, and using technology to reduce the loneliness in older adults.
Let's talk
At Equal Experts we believe we're in a really good place to help tech companies in Liverpool be even more successful. The key difference between us and everyone else out there is that we only employ highly experienced experts in their field. That means we have a massive amount of knowledge and expertise in our network, from a wide range of disciplines and industries (read more on some of the work we've done). Our group of talented, like-minded professionals know how to draw on their hard-won experience to solve difficult problems in new and different ways.
If you're a professional or a company from Liverpool, and all this sounds like something you'd be interested in hearing more about, get in touch. Or even better, come along to one of our two upcoming ExpertTalks in the city. The first is happening on May 14th, and the second on June 4th. Listen to the latest thinking on Serverless tech, DevOps and Agile transformation, before enjoying some delicious free food and drink. The team will be there to answer any questions you might have, so don't be shy – introduce yourself! We look forward to meeting you soon.
—
Main image source: Wikimedia Commons