An introduction to DevOps – one great evening
We take part in all kinds of events at Equal Experts, but one of the most memorable of recent occasions (for all the right reasons!) was held right here in our London HQ last week. When Surfraz Ahmed asked me how he could get something up and running to teach people a bit about DevOps, I told him about my recent exposure to London's thriving tech community, and after a few discussions with various others, we found ourselves with full list of participants and more volunteers than we expected!
Teaming up with codebar and Ladies of Code – two brilliant organisations that do a huge amount of work to encourage more excellence and diversity within the tech sector – we hosted a hands-on introduction to DevOps.
The evening proved a close look at the DevOps movement – and why the associated principles and practices are really worth adopting. There were a series of lightning talks and demos throughout the evening:
History of DevOps – Andrew Hodgson
Agile Principles of DevOps – Ann Yong/Surfraz Ahmed
Continuous Integration and Delivery – Dan Mitchell
Infrastructure provisioning and deployment into Amazon Web Services with Terraform – Alan Platt and Phil Harries
It wasn't all sitting back and listening, though. Attendees had ample opportunity to take part themselves. A pair of exercises provided an opportunity to get hands-on experience of deploying an app to Heroku, and using application container tech as teams Docker-ised a small web app. And of course, there was still plenty of time for pizza-fuelled networking (a vital component of any EE meetup).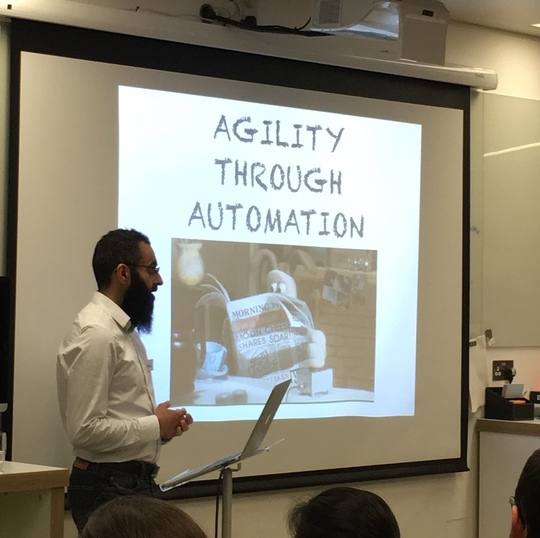 It was a real joy to see such a diverse, capable crowd getting stuck in and learning together, not to mention all the positive feedback from our attendees. Thanks to all who joined us, to our speakers, and those that assisted our teams during the hands-on sessions, namely: Chaitanya Channella; Maria Rubio Gonzalez; Cassiano Leal; Andrew Hodgson; Philip Harries and Chandan Pawar.
If you'd like to hear about similar events in future, keep an eye on our Events page, or follow us on Twitter.