UK Start-Up Launches Early Version of World's First Company-Level Child Labour Index
It is estimated that 160 million children around the world are involved in child labour, equating to one in ten of all children.
June 12, 2023 sees a soft launch of a new Child Labour Index by Manchester start-up HACE: Data Changing Child Labour. In the coming weeks the Child Labour Index will be made available to a select group of early adopters for incremental product feedback and refinement in a pilot programme, prior to a full market launch anticipated late summer 2023.
The new index, which coincides with the World Day Against Child Labour, is the only quantitative metric in the world for child labour performance at a company and group level.
For many people, child labour is something they associate with the Ready-Made Garment industry, but the true nature of child labour is far bigger. Child labour supports many of the world's biggest industries, from agriculture and manufacturing, to the extraction of the minerals that power our smartphones and electric cars. The ILO estimates that between 2016 and 2020, 8.4 million children were added to the global child workforce.
This humanitarian crisis is a huge risk for global companies. Companies that are accused of human rights abuses and those that finance such companies, can be subject to huge reputational damage and fines. For example, new regulations such as the EU's CSRD and CSDD could see financial market participants fined up to 5% of global revenues if they're found to be supporting organisations involved in child labour and other human rights abuses. Recent child labour cases have shown an increase in investor and shareholder culpability, especially in media reporting. Corporations have found themselves embroiled in global scandal, and face unprecedented scrutiny around child labour issues. 
HACE's Child Labour Index helps to mitigate this risk by giving organisations reliable, up-to-date access to information about how companies are performing around child labour. The platform, which is available via an API or portal, quantifies three aspects of corporate performance and provides an overall score on a company's performance and strategy around child labour in its supply chains.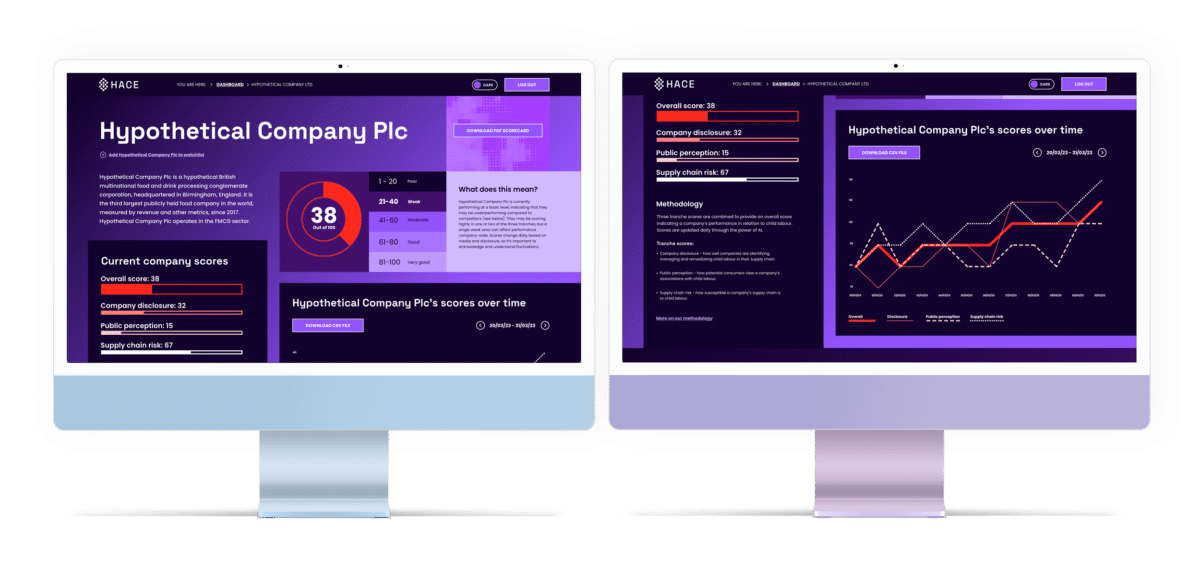 "We know that companies and investors today have limited tools available to identify, monitor and remedy the use of child labour in their supply chains. The Child Labour Index uses our deep subject matter expertise and our own AI algorithms to provide vital insight, so they can make intelligent risk assessments about companies of interest," explains Eleanor Harry, CEO and Founder of HACE. "By providing a holistic view, this also makes it easier for organisations to prioritise areas where they can strengthen performance."  
There are currently no quantitative metrics for measuring or reporting on child labour at a company or group level, yet investors are still required to report on child labour by law. The Child Labour Index allows investors to know which companies are compliant and provides the only quantitative child labour metric to comply with new SFDR and ISSB statutory reporting requirements.  
HACE has worked alongside AI consultants from Equal Experts to build algorithms that can process vast amounts of data about global supply chains to provide critical insights into the nature and scale of performance and risk around child labour. The company is also supported by KPMG and NatWest.
Harry explains: "By offering both a user-friendly portal and an API integration into users' existing ESG monitoring platforms, along with collaboration with scored companies themselves through our Company Engagement Package, we provide reliable, useful and actionable insights."