EE Life
Fri 23rd September, 2016
Tales from Wales: Equal Experts at SwanseaCon
A few of us from Equal Experts recently attended the second ever SwanseaCon, partly sponsored by EE. Held at the Liberty stadium, it turned out to be a fine blend of Agile talks and development craftsmanship.
One of our Partners, Phil Parker, ran a 'Rubber Duck session', helping SwanseaCon visitors to resolve their delivery-related issues. Anyone interested could get a one-on-one session with Phil to discuss their current delivery, and any hurdles holding up progress. What's more, each person received a free, EE-branded rubber duck. This combination was understandably irresistible to many attendees, and Phil was kept busy throughout the conference (more of that later).
Called to the stage
In addition to enjoying the varied roster of speakers, some of Equal Experts' own took to the stage, too.
Kingsley Davies is an EE Associate currently acting as tech lead and product owner for a project within HMRC. At SwanseaCon his talk was dedicated to KISS – Keep It Simple and Small – addressing the art of how to control complexity in architecture and delivery. Kingsley started by introducing the various frameworks that attempt to analyse and address complexity in software systems (such as the Cynefin framework and Systems thinking approach). From this base, he then addressed signs and instances of complexity as witnessed on real-world projects, before covering tactical and strategic ways to handle this complexity. His presentation is online, and well worth a look.
In a break from the advertised schedule, Phil Parker also stepped away from his ducks to deliver a talk at the last minute, thanks to the planned speaker being unavailable. He spoke about Continuous Delivery, and how it does not require any compromise in securing your platform – quite the opposite in fact. Again, you can view his presentation online.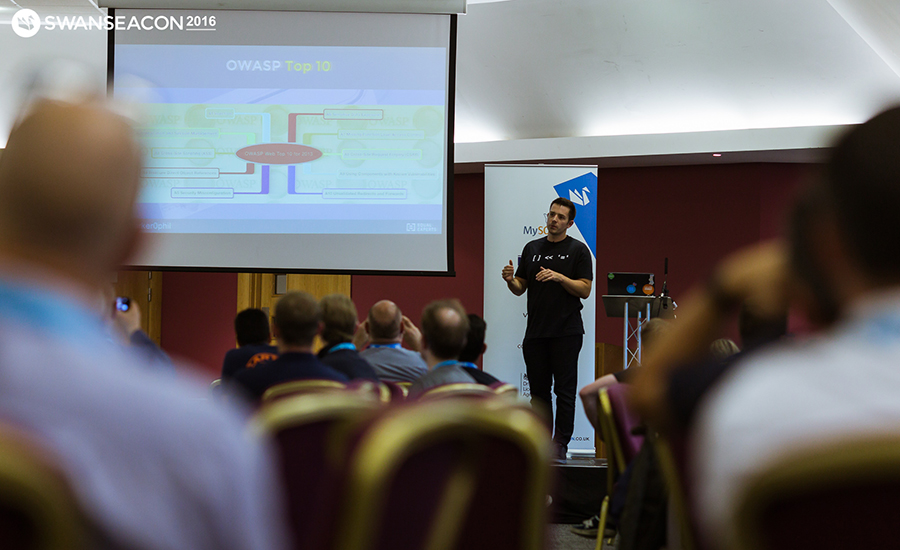 Last but not least
There must have been something in the water in Wales, as it turned out yours truly had a chance to take part too, facilitating a goldfish bowl on Scaling Agile Frameworks. We had a healthy debate on how to scale scrum, with the "virtues" of SAFe proving to be a contentious topic.
Overall, SwanseaCon proved to be an excellent couple of days. We left with our brains full of inspiration and our bags emptied of rubber ducks – success all round. It's great to see the event going from strength to strength, roll on next year.