EE Life
Tue 21st November, 2017
Pizza Talks: one place we don't recommend a thin slice
For a while now, we've been holding 'Pizza Talks' in our Lisbon office – part of a friendly environment where everyone is welcome to share their experiences and passions.
The talks are sometimes work-related, sometimes not. Either way, we've found they have quickly become a much-loved part of our working week here. Every Wednesday, our usual lunch slot is replaced with a Pizza Talk. People gather around, sitting on bean bags, chairs or just standing. Think "campfire stories" but with a projector instead of a fire, and pizza instead of marshmallows (though come to think of it…).
Why we do it
First of all, why not? The talks are a great opportunity for our team to share their experiences and passions, whether they are work related or not. But specifically, we decided to carry this initiative because:
It's an opportunity for individuals to push their comfort zone and practice their public speaking skills to an ever growing audience;
It's a good time for colleagues to learn something new and get to know their teammates better;
It fosters creativity, and helps to trigger conversations and break the routine;
We like pizza (reason enough).
How we do it
We use a simple Trello board to track the talk submissions and their scheduling. Each talk is given in English and recorded. And after some minor video editing the talk gets published and shared online, following the spirit of "ideas worth spreading" so famously espoused by TED.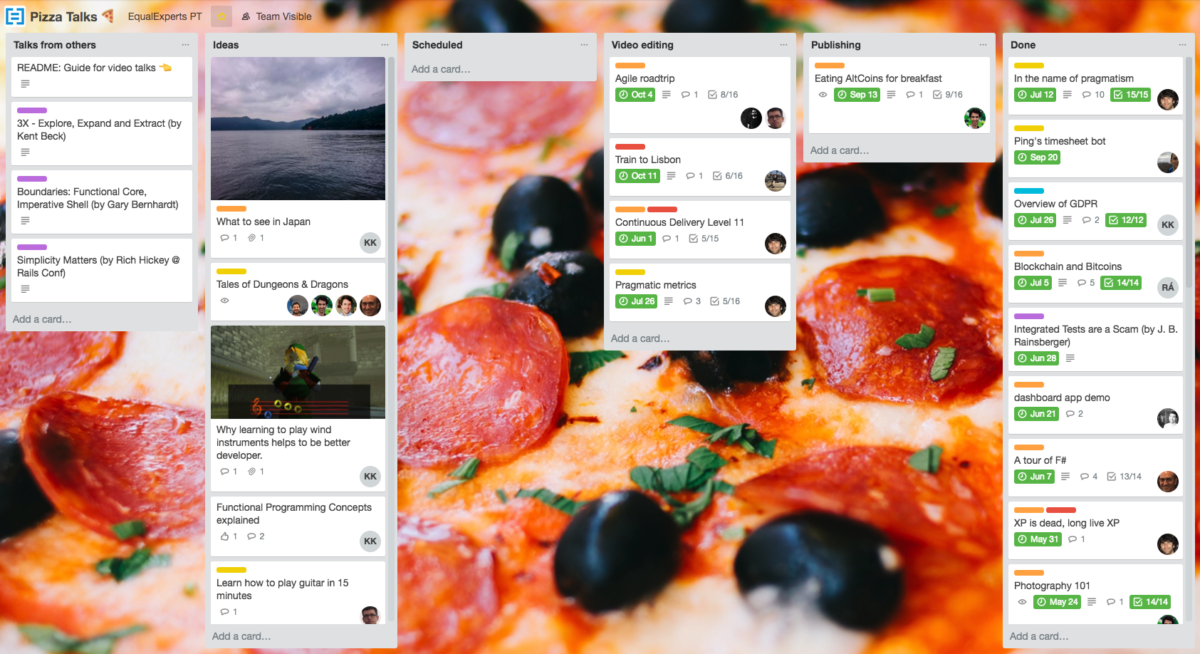 We save the pizzas for after the talk – when the speaker finishes nourishing the minds of the audience, it's time for everyone to feed the body. As we savour the pizzas, some of us will invariably take the time to ask questions and provide feedback.
What we talk about
Over the last eight months, 18 different speakers have delivered 29 talks. The "most talkative" award goes to Nuno Marques with 6 talks, but I only need two more to catch up with him! Not that this is a competition (ahem).
Recently, we started recording our Pizza Talks. You can watch them on YouTube, or subscribe to be notified when the next one comes out. Here are three of our most popular talks so far:
Train to Lisbon – Organizational impact in an international context.
Agile Roadtrip – Through a simple analogy, learn how to incorporate feedback and effectively drive your team using the backlog.
In the name of pragmatism – We use the word 'pragmatic' a lot here. This talk is about going back to Equal Experts core values, staying disciplined and making better decisions when dropping practices.
Hope you find them useful and/or interesting – and either way, I can heartily recommend a pizza talk as a great way to get your team together!