EE Life
Fri 24th June, 2016
A great day at Agile in the City
Equal Experts enjoyed a fantastic time at Agile in the City last week – although we're coming to expect this from organiser Mark Dalgarno (@MarkDalgarno) and his team, after such a good experience at Agile Manchester.
We'd like to thank everyone who made it such a great event; the organisers, the venue, speakers, our fellow sponsors (who we enjoyed some good chats with) and of course – all the attendees.
Speaking personally, there were many stand-out moments – and more that I was unlucky enough to miss, this being a multi-track conference.
Jurgen Appelo's (@jurgenappelo) keynote, "Managing for Happiness", implored the audience to "manage the system, not the people". Crucially, he also gave some practical experiments, which I'm looking forward to trying myself. Check out his upcoming book, also called "Managing for Happiness" – I had a sneak peek after his talk, and I've pre-ordered my own copy.
Luca Minudel (@lukadotnet) gave an informative overview of Continuous Delivery, touching on points that are often glossed over – like the business value of implementing CD, and the pre-requisites for doing so. He also won the unofficial Equal Experts award for coolest speaker of the conference, when he mentioned working at Ferrari and being able to perform 1-click rollbacks of software, during a Formula 1 race.
Katherine Kirk gave an informative and equally entertaining view on "How to derail Agile/Lean rollouts". With references encompassing Buddha, Dark Triads and gynaecologists, I'll never look at a transformation programme the same way again. I'll also be on the lookout for those dark human instincts that threaten to take over…
David Leach's (@AgileLeachy) talk on how to "Develop the product, not the software" resonated with me throughout his 45-minute slot. Adopting his focus on Why, on delivering better rather than faster, and on experimentation to learn about the product, would see much less digital waste in our industry. He only let himself down by failing to award me one of his Nerf gun prizes.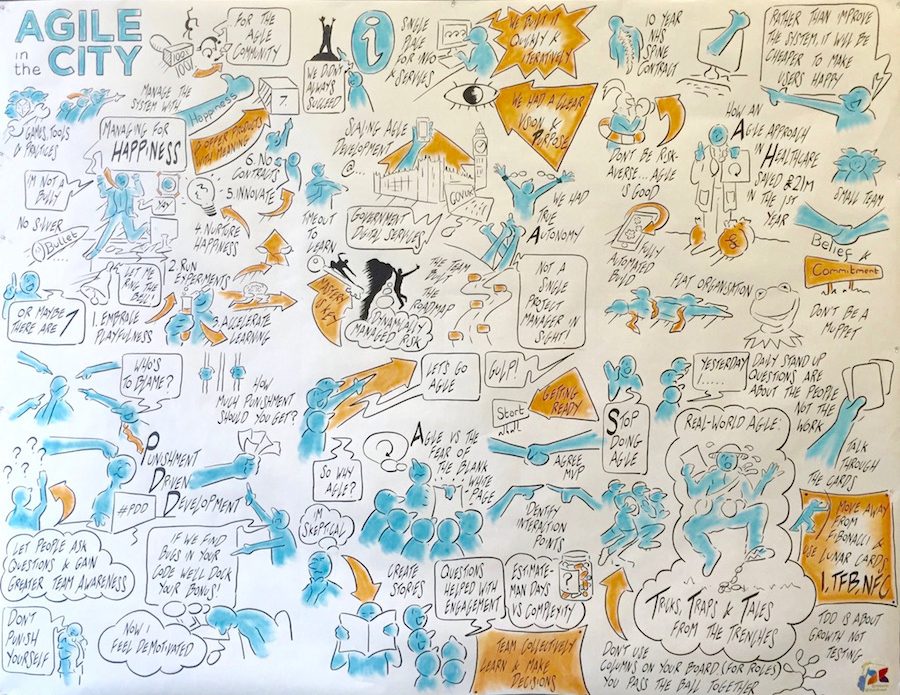 Adrian Howard's (@adrianh) talk – "Lean Personas: discover your real customers" – was a genuine eye-opener. I learned something really valuable; not to treat information as static, done. Information is constantly changing, becoming more or less true, more or less valuable to the team. Adrian's talk was about this information in relation to personas, but I'm already using it for other information my team has gathered. I suspect it's a technique with worth in many contexts, so I'm trying that out.
Finally, there was some guy called Phil Parker (@parker0phil), talking about "Real-world Agile: Tricks, Traps and Tales from the Trenches". Sourced from Phil's own experiences, as well as his Equal Experts colleagues, the talk led the audience through potential howlers around ceremonies, stories and engineering practices. It was amusing to see so many people nodding, all at different points, throughout the talk. Clearly many of his tales hit home, and people left with a few more tricks up their sleeves. That said, no-one could pronounce the title of his talk once the social event got going…
The illustrations you see in this article were brilliantly created live during the event, by the incomparable Stuart Young (@Stuartliveart). I hope to see him in action at other conferences in the future.
So thanks again Mark and the entire Agile in the City team. We're already looking forward to the next event.