EE Life
Wed 19th July, 2017
EESA: an update from mission control
It's been a little while since I last posted an update about our EESA side project – Equal Experts Space Agency. But we've been very busy in the background…
In an ideal world, we'd have achieved our dream to fly our UAV in the highest ever horizontal flight by now (if you're unfamiliar with the plan, check our dedicated page). But with a project like this there's always something to trip you up, and amateur space flight isn't a straightforward problem to solve. That's why I love it!
Still, our plan remains the same, and we're making good progress – ably abetted by the boys and girls of Addingham Scout Group, where I am also a Scout Leader. Here's a quick summary of what we've been up to since our last post.
Low level flight tests
We performed lots of successful tests with our initial drone, which set out to test the GPS programming. We've now moved onto the bigger frame, which we'll use for the record attempt itself. Our first go wasn't successful as the bungie hook, used to launch the plane from the ground for low level tests, was placed too far back.
We've now rebuilt the frame, but have been unable to test it again thanks to a combination of trips away and unsuitable weather conditions when I have been around (perhaps this is why NASA chose Florida over Yorkshire).
Release mechanism tests
We needed to test the release mechanism repeatedly, but can't keep sending weather balloons up each time. So we built a huge, heavy lift octocopter drone, capable of lifting the payload to 120 metres and automatically releasing it to drop (or fly) to the ground.
This has worked a treat with test payloads (and thanks go to Addingham Scouts who have tirelessly retrieved the payloads we've dropped everywhere, once acclimatised to the drone!). When we've established our big plane is capable of stable flight we'll be launching the drone again with that attached. Again, something that's dependent on weather conditions.
Permission to fly
Achieving our goal isn't just a technical feat – it's a regulatory one. We need the UK Civil Aviation Authority to be happy with what we're up to and give us the go-ahead before attempting the record flight.
Getting permission has been the source of our biggest delays; the CAA is very busy, with staff away on holiday to add to the pressure, so has not been able to assess our applications for flight exemptions. Back in June I applied for two balloon launches to be performed in July but I've still not had the paperwork back. This week I've resent the application with the dates changed to August. This is something that's out of our own hands, really, so we're just focussing on being ready when the time does come.
Fancy stuff
Besides the new developments we've been working to add enhancements to what we already have. We've been testing our 'sense and avoid' scripts on the wilds of the Yorkshire moors. These automatically keep our equipment well clear of other planes. We have it set to 1km of horizontal separation (much further than the 500m mandatory separation), and can see our flight plan change when a commercial jet flies "near" (although the jets in question are actually 10km above our plane – we're only testing in 2D without taking altitude into account).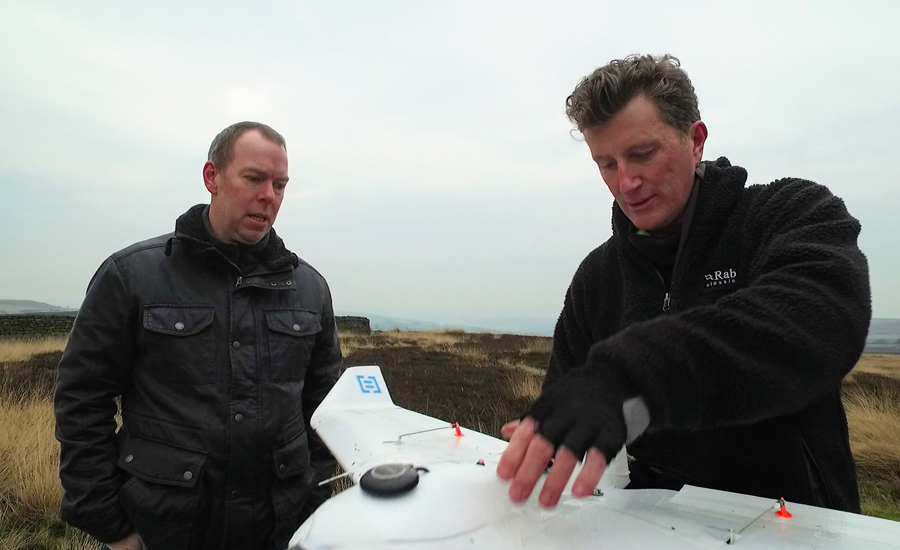 We've also added a geofence to our tests. This restricts the plane from flying more than 500m from its take-off point, keeping it in sight all the time. If it can't maintain a 500m horizontal separation with commercial jets it will automatically fly back to base and land.
We're hoping that this extra safety feature will make it easier to write a CAA safety case for our eventual record attempt.
That's it for now…
All in all then, busy times – we're having a lot of fun solving the various challenges along the way and we'll keep you posted! For anyone curious about the technicalities, we're sharing information and code up on the project's own Github.